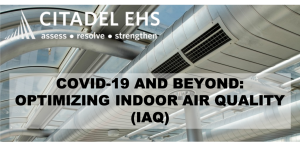 The COVID-19 pandemic shined a spotlight on the importance of proper ventilation to minimize the risk of virus transmission.  But what about after the pandemic ends?  Indoor air quality remains a health and safety concern that has been shown to cause illnesses and lower worker productivity if left unmanaged.  In addition to preparing your site to reduce COVID-19 exposure, now is the time to assess its overall health and your plan to monitor and manage the indoor air quality well into the future.
In this webinar, we will review effective methods to reduce COVID-19 exposure and the effects of other common indoor contaminants that you should be concerned about.  For each, we will discuss how to create a plan to periodically assess a site and strategies to monitor and maintain a safe and healthy space.
In particular, you will discover:
HVAC/ventilation system operating strategies and air exchange targets
Practical application of air filtration, air purifiers, ultraviolet germicidal irradiation (UVGI) and LED technologies
Emerging technologies to monitor and improve air quality
Building and ventilation system design trends
The risks to employee health, and high cost of lost productivity from inadequate ventilation
This 45 minute investment can help you optimize employee health and realize substantial cost savings.
Please plan to join us on
January 27, 2021 at 10:00 AM PST