THE VALUE OF HAVING AN EHS PROFESSIONAL IN YOUR CORNER
COVID-19 has changed the way buildings , businesses and services are operated. Policies created today may need to be revised tomorrow. If you're an EHS professional or responsible for addressing COVID-19 risk in an organization, you don't have to navigate this crisis alone. EHS consultants like us can help lighten the load at a time where experience, bandwidth, and strategy can make a huge difference. Here are some ways that Citadel's consultants can fill in the gaps and strengthen your EHS program at a time when it's most needed.
NEW CHALLENGES, NEW SOLUTIONS
Despite the influx of COVID-19 concerns, the usual responsibilities of EHS program management are still as important as ever. With the current and potentially long-term working conditions not allowing for easy travel and on-site work, some EHS tasks such as in-person, hands-on training have been rendered nearly impossible to manage in the traditional way. Many companies are struggling to complete trainings, audits, and inspections that they would normally complete in person. EHS consultants have extensive experience working to develop solutions that help to bridge the gap between old capabilities and new needs. Innovative practices such as remote facility audits, remote inspections, and remote training are already in use, and have gained favor as best practices during the pandemic. Citadel offers fully-remote consulting services and is committed to helping you manage the impact of COVID-19 in a safe, effective way.
CONFRONT COVID-19 NOW, BUT LOOK TO THE FUTURE
Even though we're all preoccupied with the pandemic, it's important to zoom out and keep an eye on where your EHS program is heading. While it's not easy to predict exactly what the EHS function will look like on the other side of this crisis, it's reasonable to assume that there will be an even greater focus on health and safety throughout the world. Citadel can add value as a strategic partner, helping to align rapidly changing pandemic needs with your company's longer-term EHS goals. We can help ensure that the steps you take now serve the ultimate successes of your programs, not detract from them.
HELP WHERE HELP IS NEEDED
Sometimes you just need more resources to get things done. Working with an EHS consultant can help you develop and implement your COVID-19 response without letting important initiatives slide. Conversely, if you're immersed in COVID-19 response, an EHS consultant can help you maintain compliance and support other EHS priorities. Along with the added bandwidth, working with an experienced consultant offers an opportunity for your team to develop professionally and drive better results. Citadel's consultants have the advantage of working across a wide array of industries. This broad-based knowledge and breadth of experience can help generate new ideas and reveal solutions that may not have been apparent. Citadel's augmented staffing service offers part-time or full-time, on-site or remote support, to ensure you fill your EHS and COVID-19 needs.
Contact Citadel EHS if you have any questions or would like us to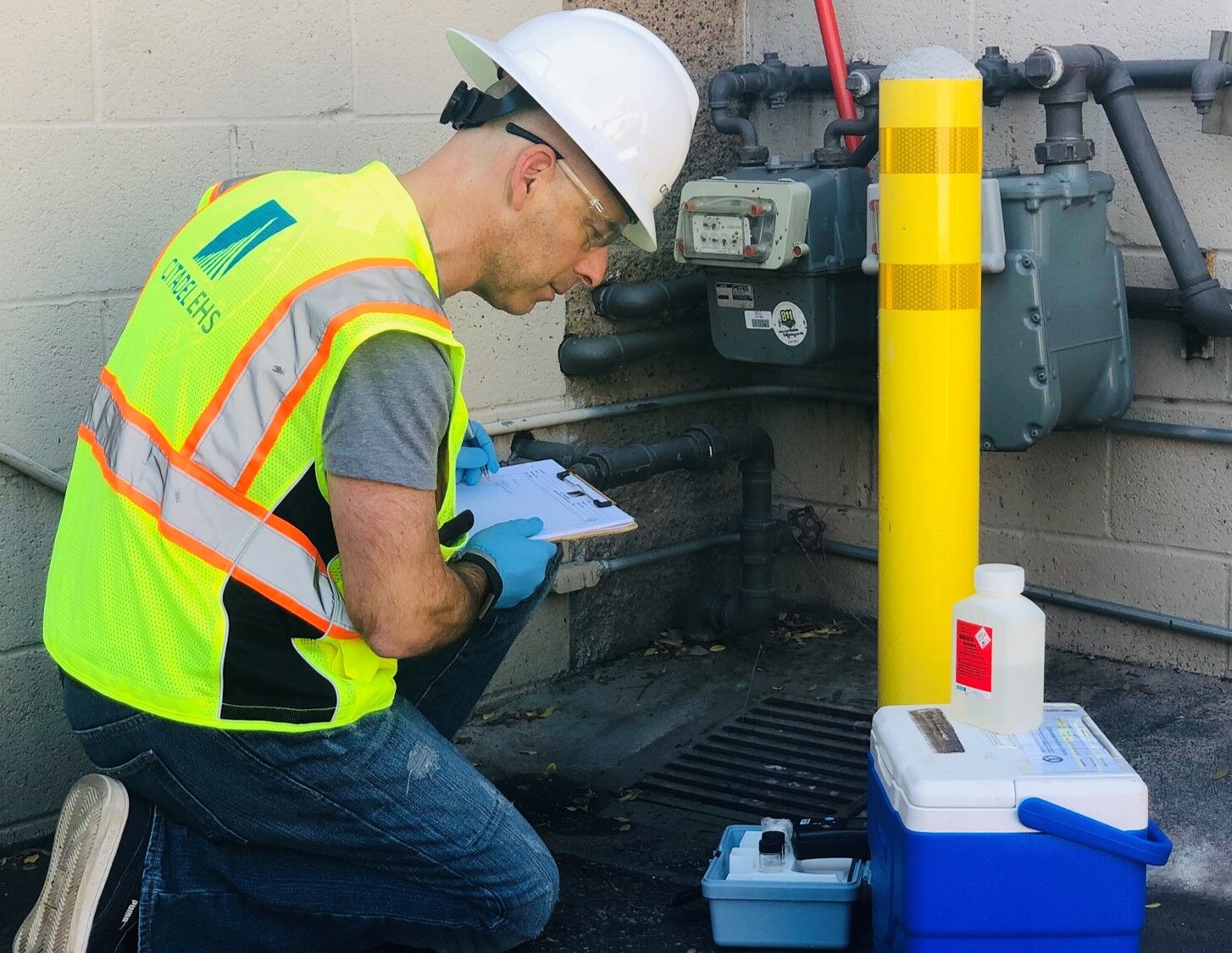 ON-SITE COVID-19 TESTING & CONTACT TRACING MADE EASY
Citadel EHS's full-service, mobile COVID-19 testing clinic and expertly led contact tracing service provides immediate relief for your daily operation. Our custom dashboard of real-time testing and tracing statistics supports rapid communication needs, ensures compliance with CA mandates, and eases reporting demands.
We're committed to reducing your risk, ensuring the health of your people, and being a seamless partner to help you meet your goals. Let our experienced EHS consultants take on the testing and tracing load, so you don't have to.
COVID-19 TESTING & TRACING SERVICE BUNDLE INCLUDES:
On-site mobile clinics with flexible hours and rapid deployment (as fast as within 1 week)
COVID-19 testing and vaccinations (at no cost to you) includes rapid antigen, PCR and saliva tests
Testing and vaccinations billed directly to medical insurance
Trained medical professionals conducting and overseeing testing
Public health experts and an epidemiologist managing contact tracing
CLIA-certified laboratory for diagnostic testing of human specimens
Custom web-based dashboard provides real-time testing and tracing stats as well as mobile upload of off-site test results
Up to 4,000 tests per day per clinic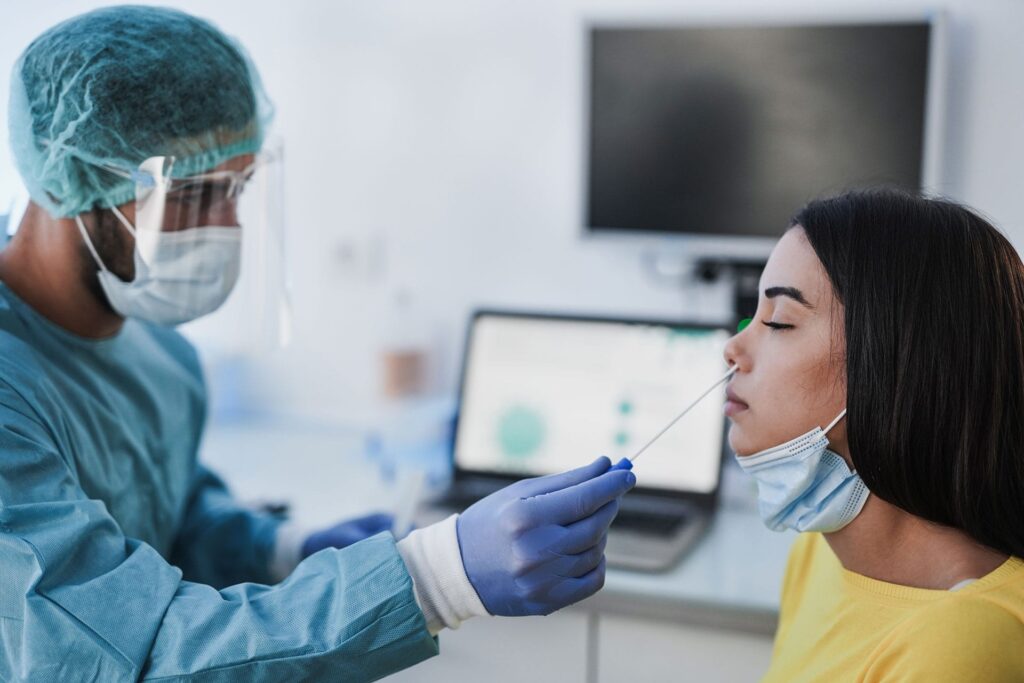 CLEAN AND CLEAR: WHICH CLEANING AND TESTING METHODS SHOULD YOU BE USING
By now, most of us have learned a bit more about droplets, nuclei and aerosols as modes of transmission of the COVID-19 virus. We've all heard about the need to clean and disinfect surfaces and objects to help control exposure. We've heard about adjustments to a building's ventilation system to help control the spread of the virus. But with all the information and advice out there, how do you choose the best methods and procedures to use in your situation and what post-cleaning testing is appropriate?
COVID-19: PREPARE YOUR ORGANIZATION NOW FOR A RETURN TO THE WORKPLACE
Join Citadel EHS, leading Environmental, Health & Safety consulting firm, for a FREE 45-minute webinar on how to prepare your organization to return to work once the COVID-19 restrictions are relaxed.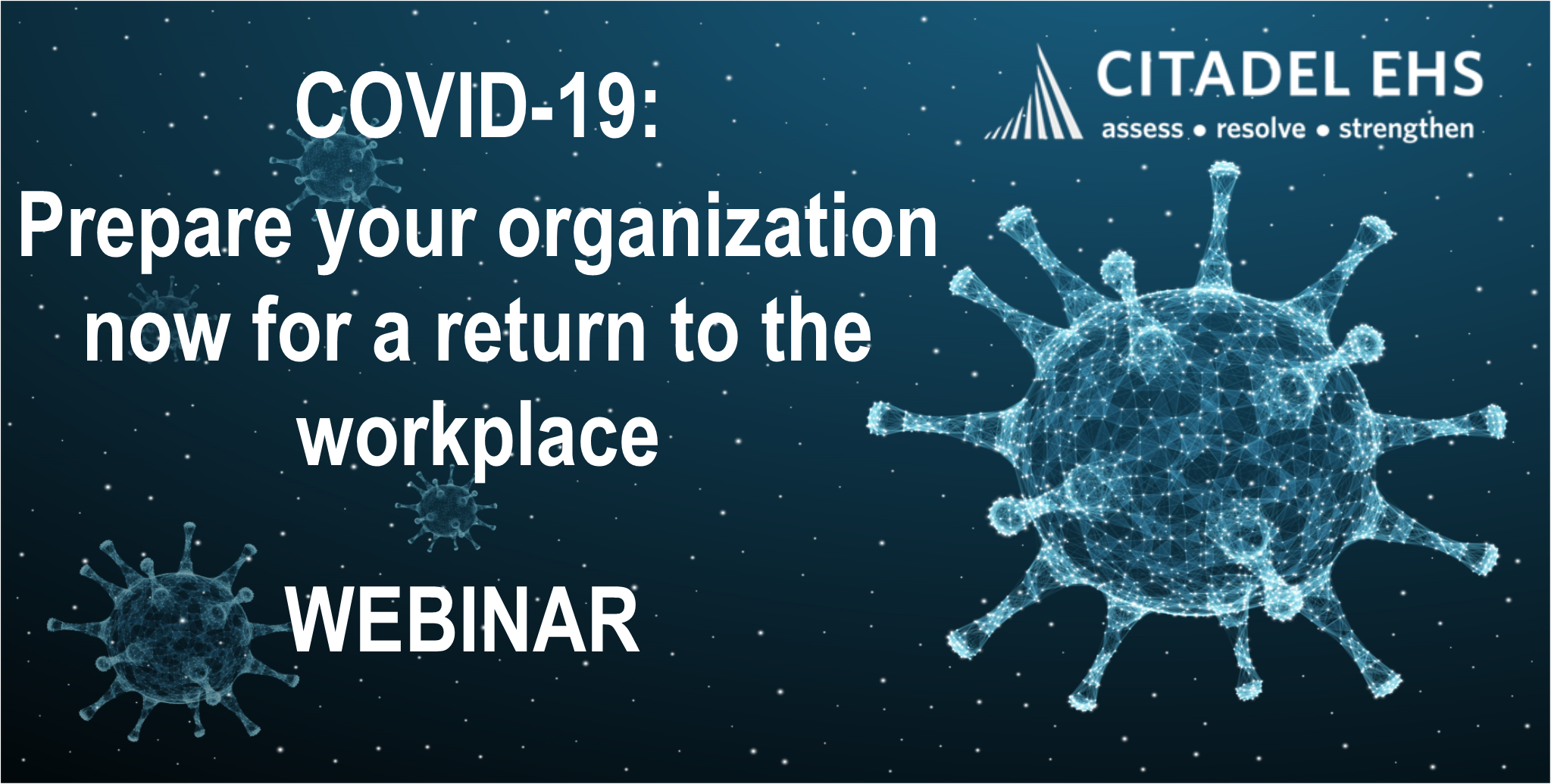 COVID-19 AND BEYOND: OPTIMIZING INDOOR AIR QUALITY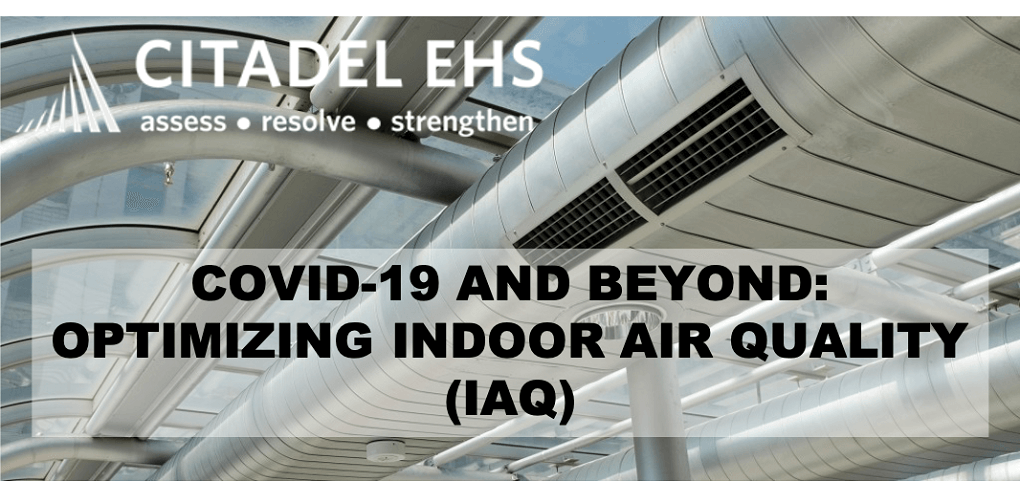 SAFETRACES veriDART® VENTILATION EFFECTIVENESS ASSESSMENT
CitadelEHS is a SafeTraces VeriDART ® Preferred Partner and ready to support ventilation effectiveness analyses for your building or space.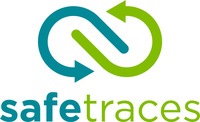 Review and validation of COVID risk-reduction procedures
Advisement on physical space modifications and internal COVID policies
HVAC system assessments

Air flow and air change per hour determinations
Pilot studies using DNA tracer to understand virus movement in air and inform management decisions

Review cleaning protocols and cleaning products to ensure safe and proper use
Monitoring of cleaning activities

Post-cleaning efficacy testing using real-time ATP sampling
Surface swab and air sampling for SARS-CoV-2

Water quality testing for legionella and other parameters to safely re-open a building
Waste water surveillance for SARS-CoV-2
Emergency response program planning and how to manage a confirmed case
Training

COVID risk-reduction procedures
Bloodborne pathogens and exposure control
Personal protective equipment
Chemical and biological safety