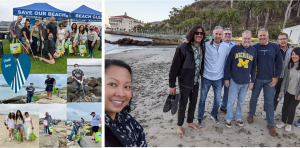 As the calendar turns to December, we start to reflect on the year that's passed. It's been a wild (almost) 2 years of a time warp due to the global pandemic and our workplace responses for safety and continuity – and looking back I can say that having colleagues that feel like a family really fosters fulfillment and a sense of well-being. As we launch our ESG & Sustainability consulting services at Citadel, we are also looking inward at our own operations and policies, and the topic of Stakeholder and employee engagement (under the 'S' part of ESG) is crucial to our culture and sense of pride as a Citadelian.
I had the opportunity to join Citadel EHS back in July of 2021, and as I make my way into this family I'm grateful for the foundation of care and camaraderie that I've stepped into. I love the teams and colleagues from my prior roles, that will never change. But I also celebrate the structure of Citadel's workplace. I want to take the time to acknowledge three key aspects of work-life within Citadel, all of which can be tailored to a diversity of organization sizes and functions.
Accountability and ownership– There are some unique aspects of working for an Employee owned business, an ESOP, that lend themselves to personal and team accountability. We are responsible for our company's health. As a newbie, both a new employee and responsible for building a new suite of services under our banner – I am still a "net burden" on our working capital. The message from our leadership and my team members has been that that's okay since we're building together and it's expected it'll take time to get off the ground. That feeling of empowerment to innovate and push what we can deliver to our clients is awesome. It also dovetails with the idea of ownership – as an empowered team we also take full responsibility for how we act with other staff and with our clients. To translate this as a way to build social capital for any organization

a) there's an opportunity to create a dialogue around performance targets and an agreement around the goals that are set. Consider, as mentioned below, having a more regular dialogue around targets that include professional development and client-facing deliverables or financial targets.
b) there are creative ways to celebrate the part we all play in a company's success. Start with a departmental conversation to make sure teams and employees understand their goals and the part they play in the greater organization's performance. This can also include strategies such as employee-nominated employee-of-the-month programs, or virtual ways of giving your teammates a shout-out.

Innovation and Empowerment – This may be a product of employee-manager trust that comes with our structure as an ESOP, or as a function of Citadel's operations as a consulting company. However, I've been fortunate in my career so far, including here at Citadel, to have pathways opened for me to innovate and be creative about how we can best serve clients. As an ESG & Sustainability professional, I'm excited about all the services we're building to expand our current role in the built environment. For most organizations, a dialogue around performance targets and a mutual agreement on those can be an opportunity to foster trust and empowerment. These can be twice a year or quarterly conversations about professional development, deliverables, and any ideas for new scopes of work that can be provided. Another angle might be inviting junior team members to be involved in developing new or slightly customized scopes of work, giving both an opportunity to learn and innovate.
Integrity – In a technical environmental firm that provides performance testing, oversight and consulting – we don't only celebrate good news and opportunities, sometimes results or situations need attention and or investment. I've been pinching myself for the past 6 months after every conversation I've heard with clients and how my colleagues approach our role of providing objective and actional information. Even when looking internally, our sustainability practices can use some updating, and that has only been met with openness to re-writing parts of our green promise. This easily can be replicated in all organizations, and starts with a commitment to providing the best long-term services for clients and staff. Keeping a constant reminder of your mission, core values and principles can help steward any organization and stakeholders into acting with integrity at every opportunity we get. And this doesn't mean values are written in stone. Publicly-shared goals and values that need to be updated are a great opportunity to tell a story to the public, your staff and clients.
In addition to honing our employee engagement, we are in the process of updating our "Green Promise", i.e. our sustainability plan and policy. Stay tuned for more goals as we wrap up our initial data round-up and look forward to 2025 internal sustainability and ESG goals! From our Citadel family to yours, we wish you a happy holidays and look forward to working with you in the new year!
Ravi Bajaj, LEED AP+, WELL AP
Principal, ESG & Sustainability