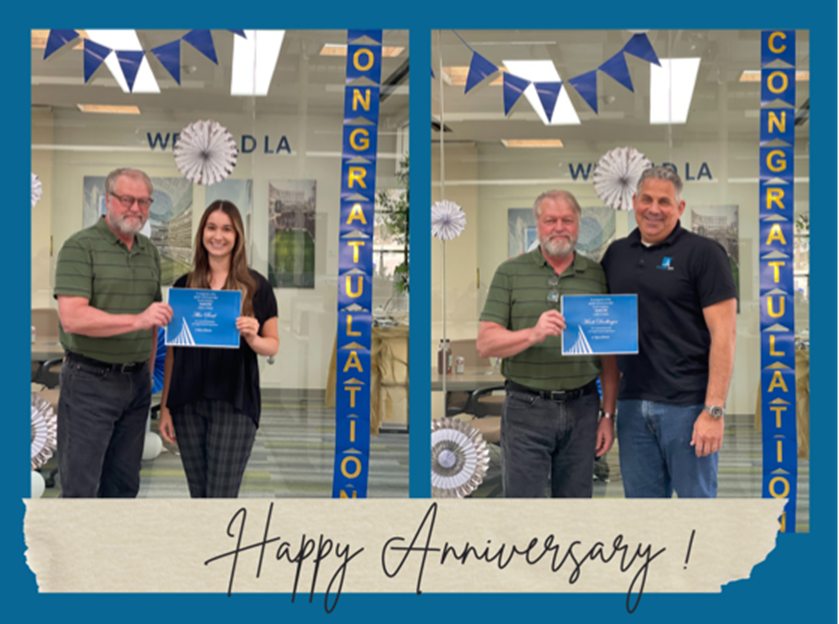 Citadel Celebrates Our Employees, Happy Anniversary!
At Citadel we are
100% employee owned
, and we consider our employees not just cogs in the wheel– but co-owners who have joined together to build us from the ground up. When we celebrate a work anniversary here we aren't just celebrating your time spent, we are celebrating memories made, innovations created, and relationships built.
Congratulations to Mark Drollinger and Alexandria Reed on their Citadel anniversaries! We are truly grateful for what you bring to Citadel, each and every day!
Mark Drollinger, M.Eng, CSP, CHMM
is a brilliant guy with a quirky sense of humor. He is celebrating his 11 year work anniversary! As Principal of Engineering and Environmental Sciences, Mark has a level of expertise and experience accomplished by few, with a strong knowledge of EPA, AQMD, OSHA, and DOT regulations. A key negotiator for local, state, and federal agencies, Mark is accustomed to coordinating a complex array of multi-disciplinary project teams, while also taking on various high-level responsibilities: developing and implementing health and safety protocols; overseeing all engineering and geological science projects; and coordinating with his project managers and staff to solve the sometimes typical, but often complex and specific needs of each client.
Alexandria Reed finds joy in being a problem solver for our clients and has a can-do attitude. She is celebrating her 4 year work anniversary! Ms. Reed is a true environmentalist and communicator. She's worked with a non-profit, leading trips to foreign countries for the purpose of reforestation and agricultural assistance. Additionally, she worked for an environmental restoration company, performing tasks such as seed collection, ecological surveying, and wetland restoration. She believes in strong communication between contractor and client, a value she feels is reflected in Citadel. Her responsibilities include performing Phase I and Phase II Environmental Site Assessments, preparation of health and safety plans and hazardous materials business plans, hazardous materials inventory, NPDES monitoring, and environmental compliance assistance for various high-profile clients.