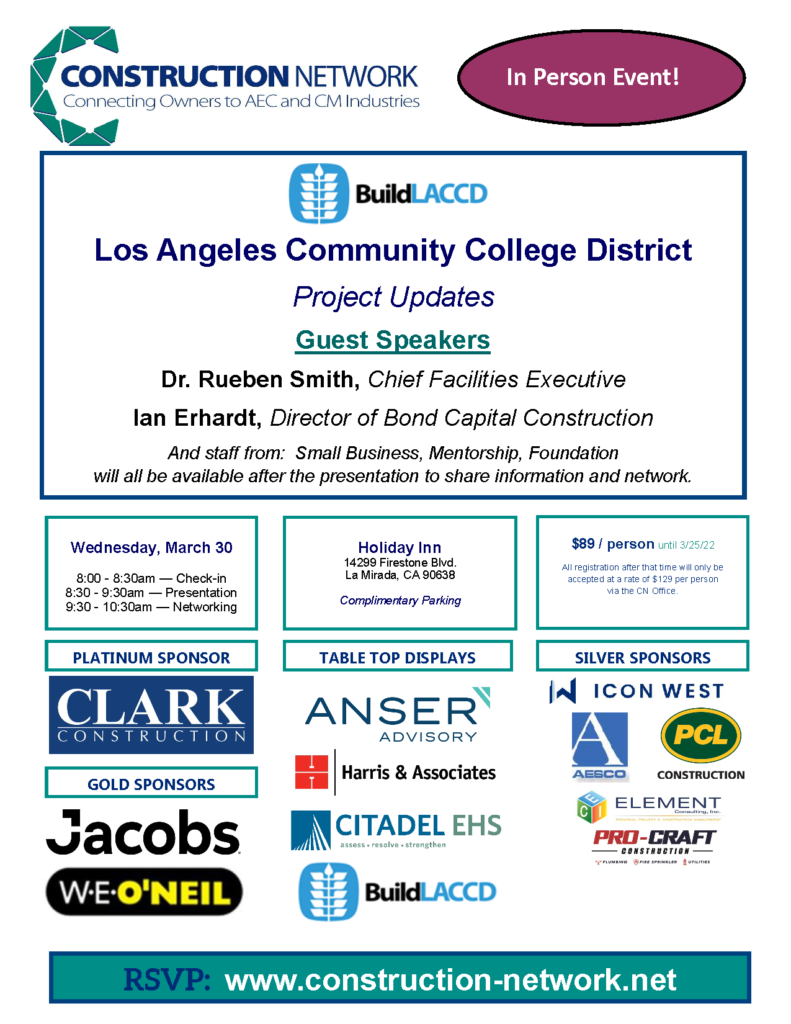 Citadel EHS will have a table display at the Los Angeles Community College District (LACCD) Project Updates Event on Wednesday, March 30th. Organized by ConstructionNetwork and  BuildLACCD we are excited to hear the guest speakers Rueben Smith and Ian Erhart share their presentations and we look forward meeting and networking with event participants and attendees.
Citadel is proud to be an LACCD environmental consulting service provider, and we look forward to supporting BuildLACCD projects across their nine L.A. County campuses – t
he largest community college district in the entire U.S.
! Their colleges educate an estimated 250,000 students annually and they have 742 projects completed so far, all dedicated to offering the highest quality of educational experiences possible to their students. The $9.5 billion Sustainable Building Program is funded mainly by bonds approved by Los Angeles Voters in 2001. LACCD has used $9.6B to improve campus facilities, modernize how students learn, and reduce its overall carbon footprint. This program has allowed LACCD to garner many awards concerning their innovation, sustainability, and commitment to energy efficiency. You can view the many accomplishments of BuildLACCD and the companies who partner with them in this major endeavor at their
website.
Citadel EHS has a strong background in supporting schools and universities across southern California, and looks to bring their expertise as a supporting tool in LACCD's needs. Please visit our display table, and say hello to Citadel team members Josh LaPrease and
Bruce Thrupp
.