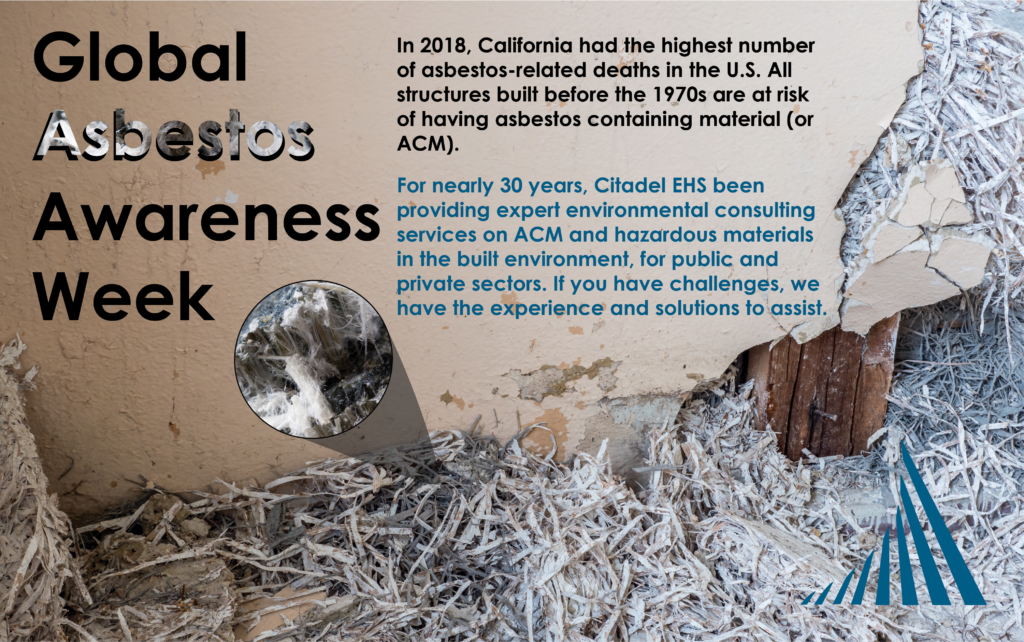 Asbestos is well known to our experts here at Citadel EHS. Prior to the 1980s, this material was used extensively nationwide, because of its exceptional ability to strengthen and fireproof materials, including concrete, bricks, fireplace cement, pipes and insulation. That was before we knew the health hazards associated with this material, including mesothelioma (a type of cancer).
Each year, the
Asbestos Disease Awareness Organization
dedicates April 1-7 to increasing awareness of the dangers of this material and preventing exposure to this known carcinogen. Global Asbestos Awareness Week (GAAW) focuses on educating people about both the risk of this material and how to manage this risk, to prevent asbestos-caused diseases. Many structures throughout Southern California still contain asbestos; military bases, airports, commercial and city owned buildings, oil refineries, power plants, schools, shipyards – frankly any building/structure older than 1980 is at risk for containing this material, and must be surveyed and have mitigation measures put into place for the safety of everyone.
This is where Citadel EHS comes in! Our Building Sciences Team, led by Practice Leader,
Kier DeLeo
, brings 30 years of experience with managing and mitigating risks associated with hazardous materials in the built environment. From the initial environmentally regulated material (ERM) survey to comprehensive monitoring during demolition, and everything in between, Citadel has the licensed and certified staff to assure successful project execution. With the largest crew of certified asbestos consultants (CACs) in the Southern California region, Citadel is equipped and positioned to respond and scale quickly according to project needs, no matter how large the effort.
If you have a building or structure with asbestos concerns, please reach-out to us for support! And we hope we did our part to raise awareness during this coming GAAW!