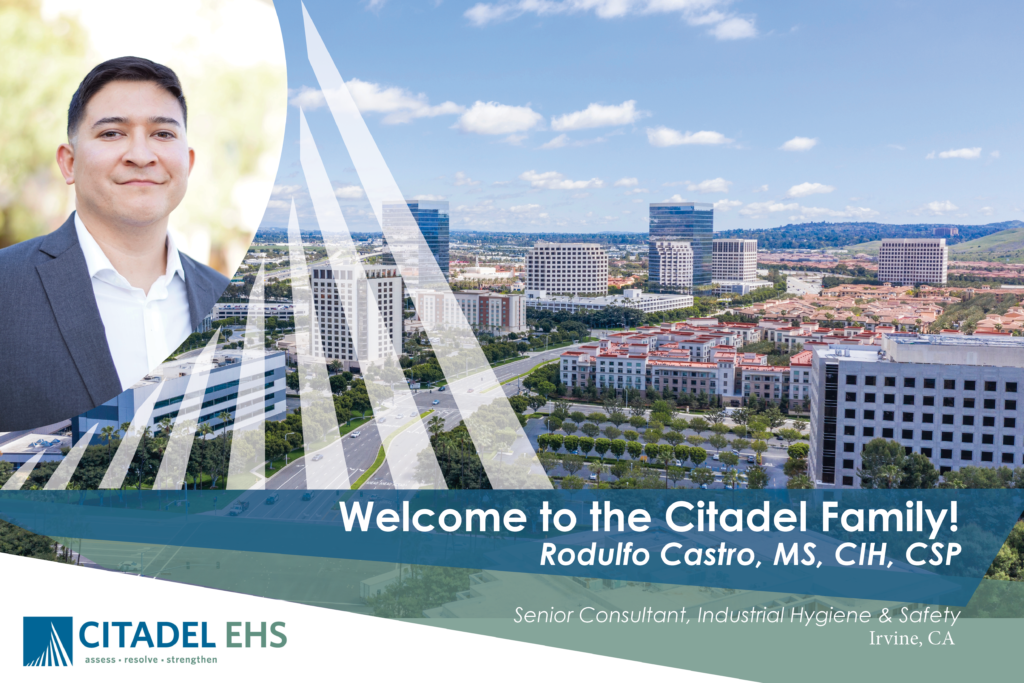 You most likely have already seen and heard about our CIH trailblazing our San Diego office, Adrian Olivares. Recently, Citadel EHS hired not one, but TWO new Certified Industrial Hygienists for our
Industrial Hygiene and Safety practice
.
Rodulfo (Rudy) Castr
o joined the IH&S department as a Senior Consultant and works out of our Irvine office. He's a Certified Industrial Hygienist (CIH) and Certified Safety Professional (CSP) and holds a BS degree in Chemistry and MS degree in Industrial Hygiene. Mr. Castro has over 11 years of experience in the Health and Safety industry including more than 7 years in leadership roles. Prior to joining Citadel, Mr. Castro served in the Occupational Health and Safety realm in the United States Air Force where he was responsible for the management and execution of Health and Safety initiatives for continued Military Operations. For Citadel, Rudy provides senior-level consulting support on numerous industrial hygiene and safety projects.
Mr. Castro provides tailored solutions to unique challenges. Areas of expertise include:
• Health and Safety Program oversight and management
• EHS Gap Assessment and program development & implementation
• Compliance evaluations of ventilation for contamination control
• Process improvement utilizing lean principles
• Hazardous noise assessment and control recommendation
Rudy began his journey into this profession after being steered into it while serving in the Air Force. The Air Force breaks out occupational safety into different function areas and Rudy was captivated by Industrial Hygiene.
As a Senior Consultant, Mr. Castro is responsible for organizing, coordinating, and managing the implementation of Health and Safety principles , structured around client needs and priorities. He works directly with clients to help identify risks and needs, scope best-fit solutions, and manage projects to completion. Mr. Castro is a technical expert who provides comprehensive solutions that are data driven, practical, and results oriented.
Welcome to the Citadel Family Rudy!