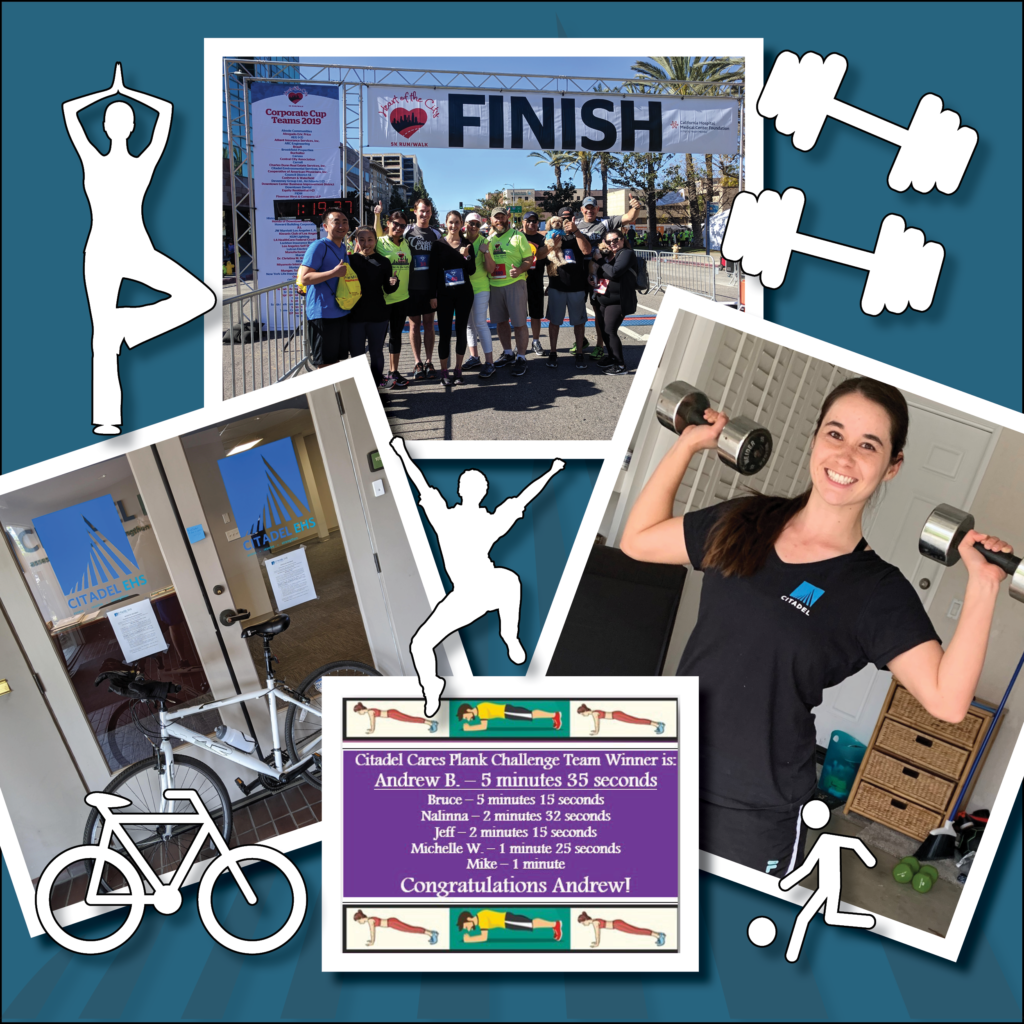 Health and fitness is no taboo subject at Citadel EHS. With the arrival of Global Health and Fitness
Month
, Citadelians all over California are excited to take their fitness to a higher level.
At Citadel we strive to have a positive social-environmental impact not only through the work we do for clients but also in how we treat our employee owners. Citadel values and empowers our employees to live healthy lives starting on their first day of employment through online training, Monday Motivation Mantras, and fitness challenges. We value and empower everyone who joins the Citadel family because they are integral to the success of this firm. Coming together to live healthy lives is just another way that Citadel embraces its
company values
of excellence and empowerment.
In the first week of employment, new Citadelians will have ergonomics awareness training, where they will learn the elements of an effective ergonomics process. They must learn ergonomic risk factors, basic ergonomic principles, proper body mechanics, and learn to accept responsibility for personal health and fitness wellness. Standing desks are purchased for employee owners who request one, lowering their risk for heart disease, obesity, and back and neck pain. As a family-oriented, employee-owned firm, we care about the well-being of every team member.
Our commitment to our employee-owners goes beyond a paycheck. We care about their health and fitness wellbeing. They are given the opportunity to join monthly challenges like the plank marathon challenge, in which employee-owners participated in 7 days of core conditioning and a final plank marathon. The winner won a $25 American Express and was recognized by the Citadel Cares Committee. Citadel has also organized other events like monthly meditation, participated in City of Hope's 5k fundraiser, and the Citadel Cares monthly steps challenge. We value the benefits that being fit has on everyone, like self-confidence, improved concentration, enhanced creativity, and much more.
Monday Motivation mantras emails go out monthly to keep our staff mentally heathy. Shifting everyone's mindset to bigger and brighter things is important to keeping our high standards. Motivated employee owners know that they are learning, growing, succeeding toward a common mission of assessing our client's needs, resolving their issues, and strengthening their reputations. We want to empower everyone to live the Citadel Values.