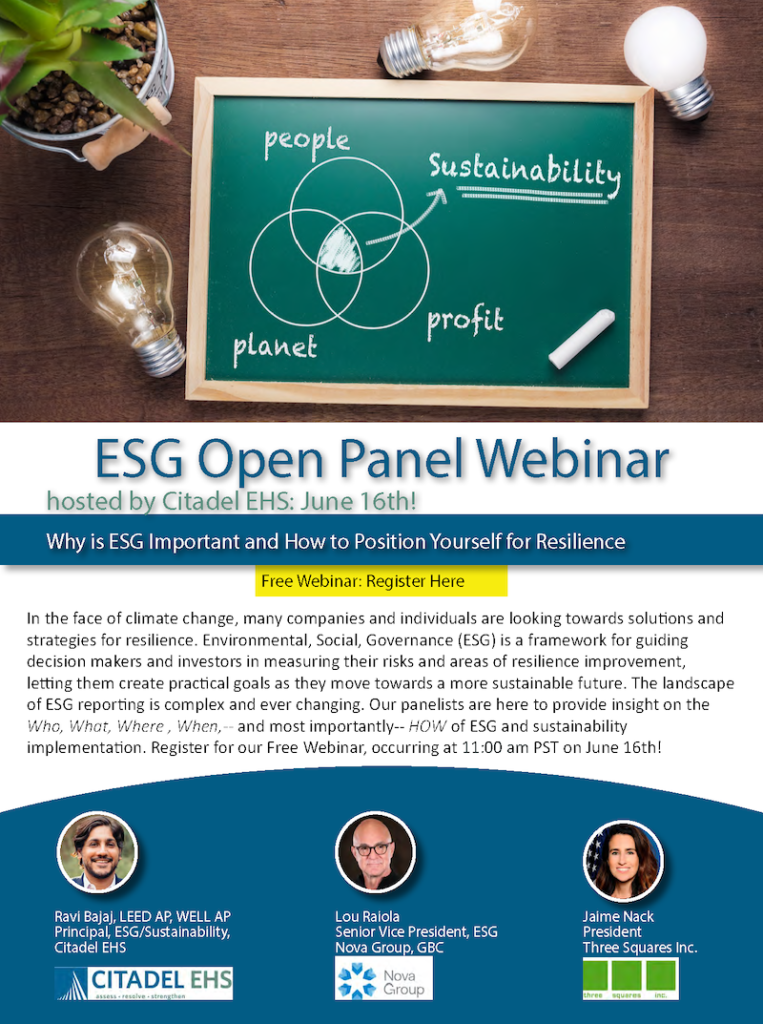 Citadel EHS is hosting a FREE ESG Webinar and open panel discussion on Environmental, Social, Governance (ESG) and resilience, in partnership with NOVA Group and Three Squares Inc. Mark your calendars for 11:00 am PST on June 16th and join our panelists Loren Witkin; CEO of Citadel EHS, Ravi Bajaj; Principal of ESG/Sustainability at Citadel EHS, Lou Raiola; Senior Vice President of ESG at Nova Group GBC, and Jamie Nack; President of Three Squares Inc.
In the face of climate change, many companies and individuals are looking towards solutions and strategies for resilience. ESG is a framework for guiding decision makers and investors in measuring their risks and areas of resilience improvement, letting them create practical goals as they move towards a more sustainable future. The landscape of ESG reporting is complex and ever changing. Our panelists are here to provide insight on the Who, What, Where , When,– and most importantly– HOW of ESG and sustainability implementation.
Environmental Social Governance (ESG) is gaining momentum and organizations are increasingly taking steps to foster ESG reporting and proactively address investors and consumers. Our ESG team supports building owners, managers, and investment teams with actionable and objective ESG advisory services to help set, track, and meet ESG goals. ESG planning and support can be focused on specific program development and implementation or can be provided as a comprehensive and cohesive consulting package. Our Sustainability services will help evolve your company for today's modern needs.
https://attendee.gotowebinar.com/register/3165945199407819533