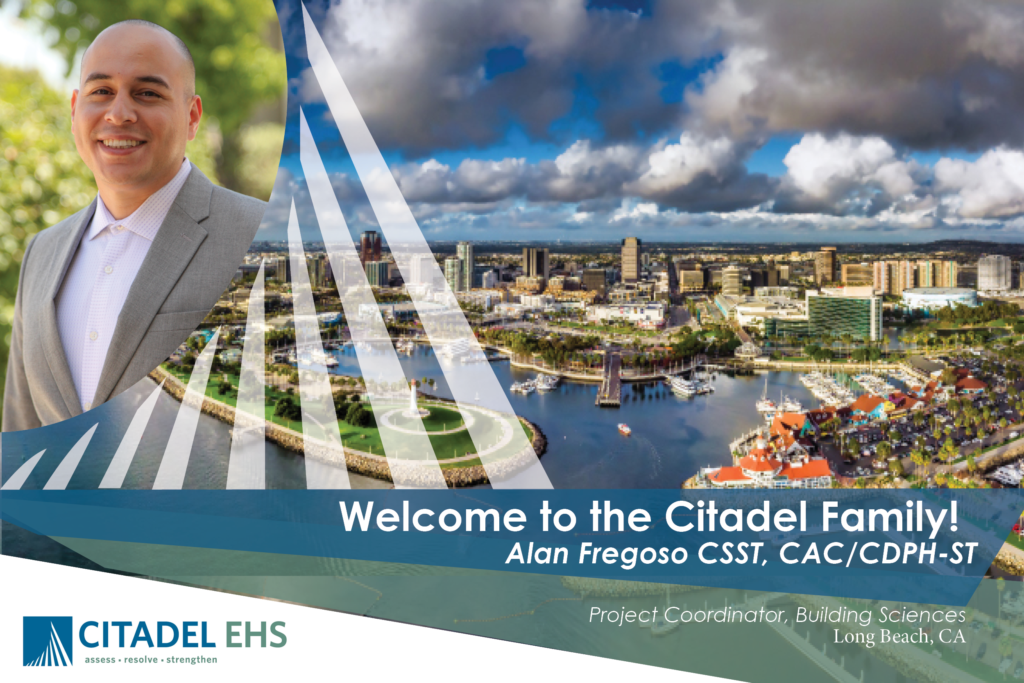 At Citadel EHS we see every new employee as an extension of the Citadel EHS family. Our commitment to our employees goes beyond a paycheck. We care about their safety, wellbeing, and financial success. We nurture a culture that empowers our employees, because they are integral to our success. Citadel EHS continues to expand our staff and capabilities to meet the needs of our clients. Alan Fergoso is coming in as our newest Project Coordinator to provide much needed support for our
Building Sciences
(BSci) practice line, headed by our principal Kier DeLeo.
Alan Fregoso
 is a proud employee owner and Project Coordinator at Citadel EHS. He is a CAL/DOSH Certified Asbestos Consultant, and plans on adding more certifications to his name before the end of the year. Alan is not only a determined professional, but a mentor as well. In his career so far he has coached 7 other trainees and supported them in passing their CSST exam on their first attempt. He also has a professional history of working in worker's comp claims and as an EMT for the southern California area. All of these experiences add to Alan's unique qualification and value that he brings to the Citadel team.
Mr. Fregoso will be located in our Long Beach office to allow us to more strongly support our clients in that region.
We hope you will join us in welcoming Alan aboard!
In addition to welcoming on Alan– Citadel EHS is still HIRING! We are looking for civil engineers, senior project assistants, and many more positions to be filled! Please submit your resume to our HR specialist Shannon Mateik at: [email protected]