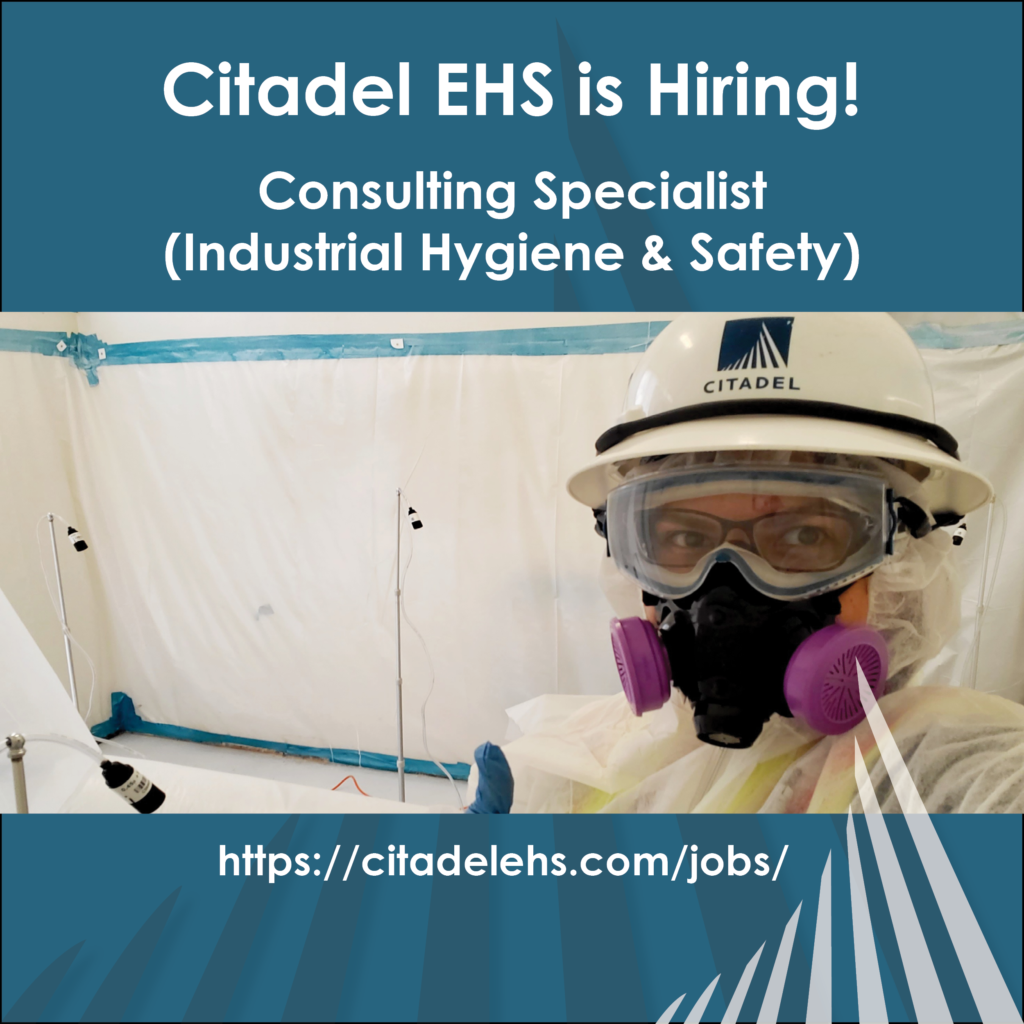 CItadel iS HIRING!!! Consulting Specialist –
We are an equal-opportunity, family-oriented firm that takes pride in listening to our clients and partnering with them to provide practical solutions that reduce risk and protect employees. We support a variety of industries including higher education, construction, property management, healthcare, pharmaceutical manufacturing, and biotechnology. Come join a consulting firm that puts people first!
Position Summary:
This could be your ideal job if you have 2 to 4 years of experience in EHS consulting or corporate EHS with a focus on IH&S and are interested in a fast-paced consulting role. In this role you will be working on a variety of IH&S consulting projects mainly in the Southern California region and may also work directly at client-site locations as part of their team.
This position reports to a Citadel Senior Consultant in the IH&S department. Candidate may be based out of our Irvine, Long Beach, or Glendale office locations.
Major Duties/Responsibilities:
• Industrial hygiene surveys including air and surface sampling
• Moisture/microbial investigations
• Occupational health and safety surveys/inspections
• Developing and delivering health and safety training
• Writing technical reports
• EHS consulting support at client-site locations
Desired Experience/Qualifications:
• 2-4 years of experience in EHS, preferably in industrial hygiene and/or safety
• Prior experience with IH sampling
• Experience in performing various types of health and safety surveys, assessments, evaluations, and/or investigations
• Experience in basic industrial hygiene sampling techniques such as surface sampling or air sampling for fungal spores
• Experience in using industrial hygiene instruments such as a sound level meter, noise dosimeter, infrared camera, or anemometer
• Experience in writing technical reports
• Experience in any of the following industries: higher education, life sciences, property management, and construction
Skills:
• Strong verbal and written communication skills
• Ability to provide consulting support in multiple IH&S service areas (e.g., microbial, IAQ, air sampling for contaminants, written program development, training, etc.)
• Ability to use IH instruments such as sound level meter, dosimeters, moisture meter, infrared camera, sampling pumps, etc.
• Ability to work successfully in team-oriented environments and accept feedback on performance
• Ability to support several projects simultaneously
• Proficient with Microsoft Office programs including Excel, Outlook, and Teams
Education Requirements:
• B.S. degree or higher in Public Health, Occupational Health and Safety, Industrial Hygiene, or related science from an accredited school
Position Requirements:
• Must be able to lift 20 pounds, work some nights and weekends, and pass a background check to obtain security clearance to client sites
• Must have a valid driver's license, a car, and willingness to travel throughout Southern California
• May occasionally require travel and overnight stays outside of Southern California
Licenses/Certifications:
• Candidate working towards CIH is preferred, but not required