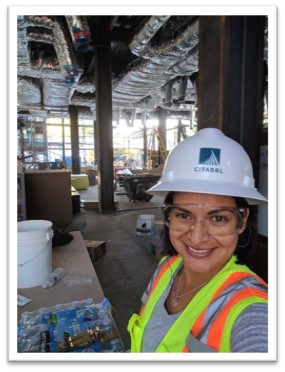 With such focus on the pandemic and transmission of the virus through the air, it's no wonder there's been more focus on indoor air quality (IAQ) and ventilation. But it hasn't just been Covid that's driving up interest in these areas. Businesses and organizations have come to recognize that better IAQ is better for business. It equates to more productive workers, less distracted students, protection against adverse health impacts, fewer employee complaints, and overall, a better indoor experience. Five years ago, most of Citadel's IAQ work was driven by employee complaints.
For Example
A worker experiences a headache and sore throat whenever they work in a particular building. Citadel responds and investigates to find the cause of the issue. Although we still conduct these investigations to identify causes of poor indoor air quality, client requests for IAQ support have broadened. We're now asked to conduct pre-occupancy IAQ studies, especially after new construction or renovations, to verify that construction debris or building materials won't have a negative impact on occupants when they move in. It's a smart move to conduct this sort of study because it not only ensures good IAQ for occupants when they move in, it also sets a baseline for how the building should perform moving forward. If a potential indoor air quality issue arises in the future, the original baseline survey can be referenced and compared to other investigations.
Of course, we can't talk about IAQ now without talking about ventilation. Even prior to the pandemic, Citadel EHS, led by P
rinicpal of Industrial Hygiene and Safety Scott Brehmer
, made a strategic decision to invest in staff development and equipment (including airflow capture hoods and anemometers) to increase our expertise and capabilities in ventilation. The investment paid off during the pandemic, when clients sought to understand how well their ventilation systems were performing. For example, Citadel assessed ventilation system performance and indoor air quality (IAQ) for
Coast Community College District
in 2021 to help bring students back to the classroom. The assessments covered 3 campuses, the District Office, and over 80 buildings in total. Spaces and buildings with subpar IAQ were identified and addressed, giving administrators confidence to bring students back.