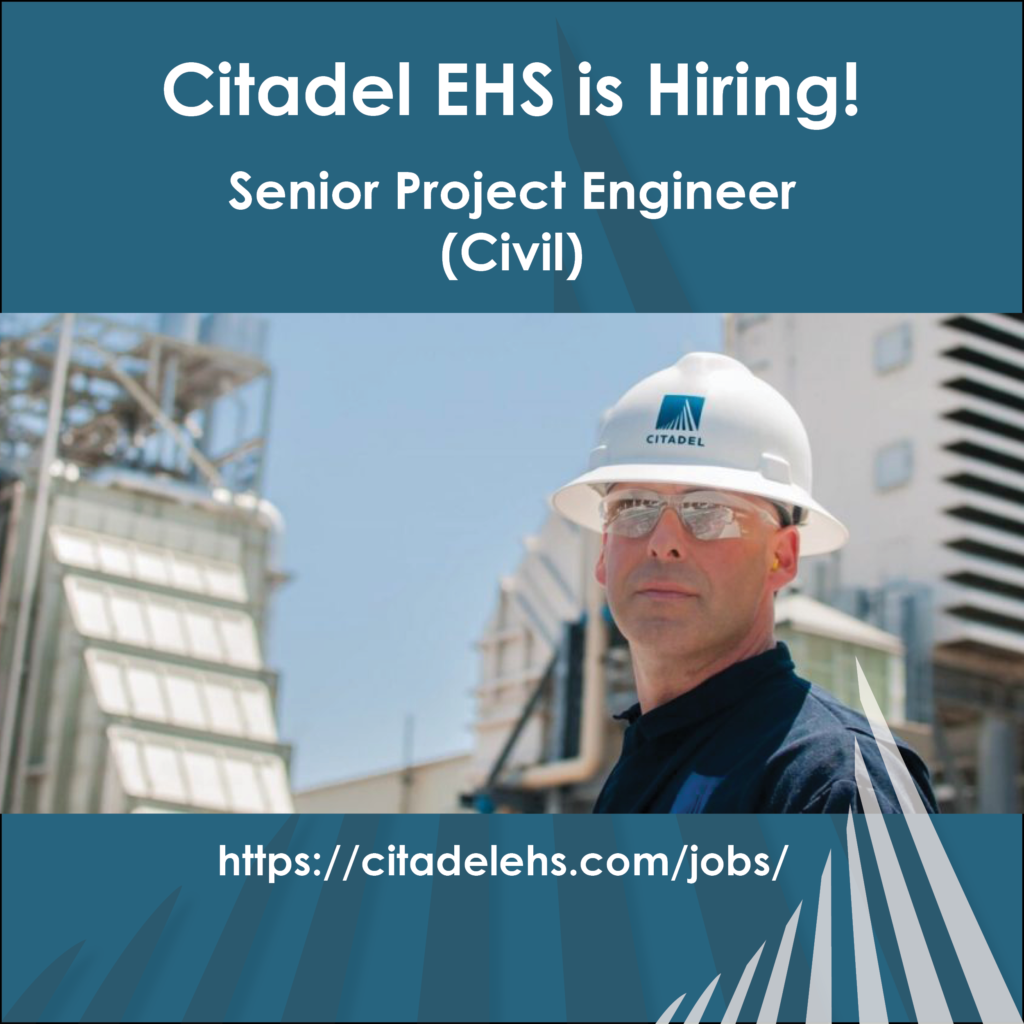 Citadel Environmental Services, Inc. is  hiring a full-time Senior Project Engineer to help the senior leadership team grow the Engineering and Environmental Sciences (EES) Group led by
Mark Drollinger, M.Eng, CSP, CHMM
and Nalinna Rasu and manage high-profile Engineering and Environmental Science related projects, including subsurface soil, soil gas and groundwater investigations, and remediation of same through Site closure. The person to fill this role has an entrepreneurial outlook on their work, will have successfully managed projects from inception through completion, and prides themselves on their ability to mentor a diverse staff. The EES Group is poised for significant growth and needs to fill certain roles to keep up with this demand. Willingness to travel, work nights and weekends as projects require; climb ladders, carry equipment, manage and oversee construction sites the ability to wear required Personal Protective Equipment, including respirators; a valid driver's license and reliable transportation.
Skills/Qualifications:
1. BS in Engineering, Geology or related field required. MS preferred.
2. Minimum 10 years of providing environmental consulting expertise to a wide range of industry sectors and client demands
3. PE in Civil Engineering is required
4. 40-Hour HAZWOP Certification desired.
5. Management of projects and mentoring of staff and limited business development experience required.
6. Significant experience conducting/preparing Phase II Environmental Investigations including VI, methane and landfills and designing and managing the remediation process.
7. Self-Starter and responsiveness is a must
8. Knowledge of construction management, blue prints, proficient with MS Office, Outlook, Word and Excel skills. Experience with CADD, Rockworks, gINT, Revit or other similar programs desired
9. Should possess good communication, organizational skills and time management practices
10. Limited travel may be required.
Citadel Environmental Services, Inc. (dba as Citadel EHS) is an employee-owned, Environmental Health, Safety, and Sustainability consulting firm, with offices throughout Southern California. We offer a wide range of services including engineering and environmental surveys, environmental compliance, air emissions, sustainable practices, industrial hygiene services (IH assessments, indoor air quality assessments and microbial growth investigations), asbestos and lead surveys and monitoring, safety/training, ESG services, staff outsourcing, and litigation support. We provide services to large institutional clients including the largest companies in the world.