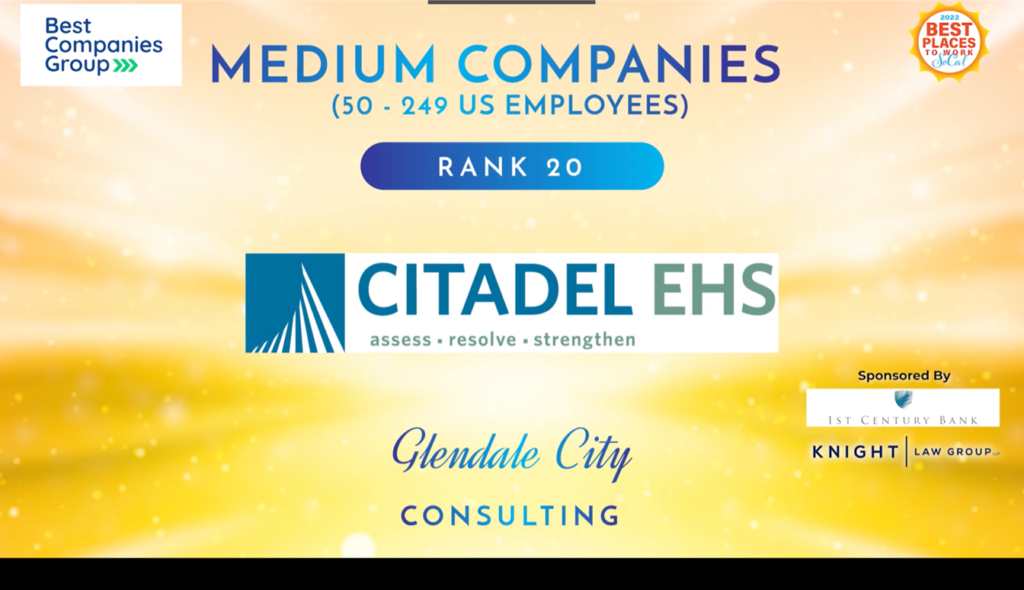 On September 29th, the Best Companies Group held their virtual rankings ceremony for all the companies who made their Best Companies to Work for list. Citadel EHS ranked #20 on the Medium sized companies for Best Places to Work SoCal 2022 list. Citadel was recognized and selected based on responses from a detailed and comprehensive survey of its employees.
"We are grateful for the recognition. Our leadership team and all of our employee-owners work diligently to create a great place to work. I'm really proud of all of them. Our commitment is to always be striving to be a better best company. Congratulations to all of the other reward recipients – there are some great employers out there that we can learn from."
Loren's statement echoes the Citadel company values of empowerment–Citadel's commitment to our employees goes beyond a paycheck. We care about their safety, wellbeing, and financial success. We nurture a culture that empowers our employees, because they are integral to our success. And a large part of that is making sure that we create a work environment that people want to be a part of.
This was also reinforced by HR Manager Shannon Mateik's thank you to the staff who took time of of their day to complete the survey,
"I want to thank everyone who took the time out of your busy day to complete the survey. As we have mentioned in the past this is really an important survey for employee owners to complete. It is helpful for us to know as a company where we need improvement and what we have been doing right. A reminder you don't have to wait once a year for this survey to let us know what we need improvement on, you can always reach out with suggestions anytime.

Thank you all for being so awesome and making Citadel such a great company to work for!"
Best Companies Group's annual award program identifies and honors the best places to work in Southern California. The ranking is based on an anonymous employee survey and an analysis of their responses about corporate culture, training and development, salary and benefits, and overall employee satisfaction.
"Southern California is known for innovation, and the companies that made our Best Places to Work SoCal list take a forward-looking approach to create workplaces of excellence," said Jaime Raul Zepeda, executive vice president of Best Companies Group. "Our research proves Citadel is committed to developing a highly engaged and valued workforce. Congratulations to all of this year's Best Places to Work SoCal winners."
For the complete list of the Best Places to Work in SoCal 2022, please visit the Best Companies Group
website
.