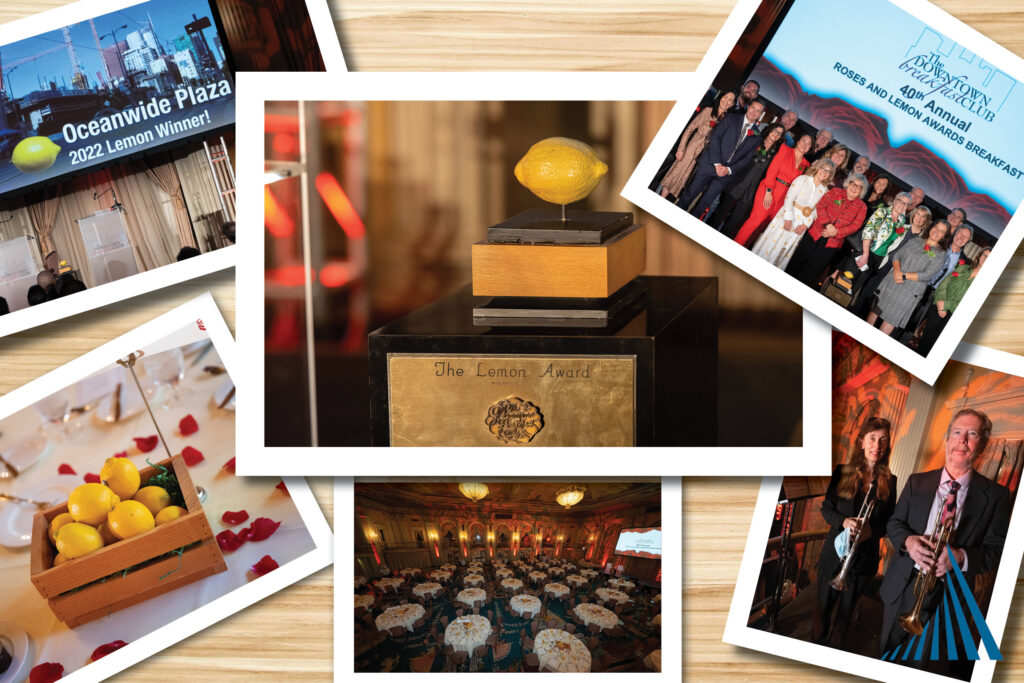 Citadel EHS was proud to have our CEO
Loren Witkin
co-chair along with Travis Cullen at the 2022 DTLA Roses & Lemon Awards. The Downtown Breakfast Club returned after a two-year hiatus to honor the best people and places in DTLA at its Roses & Lemon Awards breakfast. The club, comprised of community leaders and stakeholders, recognized the city's outstanding new residential developments, adaptive reuse projects, retail, workplace interiors and restaurants. The DTLA Roses and Lemon Awards breakfast celebrates with Roses by Downtown's best new entertainment and development, while calling-out as a Lemon for improvement. This year lemon award was a project that has stalled out since 2019–the
Oceanwide Plaza development
, which has been an eyesore in the heart of Downtown. Roses were given to three adaptive re-use projects were recognized for coming to fruition for the betterment of Downtown LA, despite the Pandemic.
Hal Bastian, longtime DBC member, secretary, and presenter of the Lemon Award, along with his cohort Sandra Kulli, said,

"Oceanwide Plaza has been an unfinished hulk that has sullied the Crypto.com Arena/LA Live area and must be completed, not accepted as normalized blight."
The Downtown Breakfast Club's mission is to encourage the orderly growth of Downtown Los Angeles. For over 38 years, business, community leaders, and Downtown LA stakeholders meet to learn and discuss the issues of Los Angeles. Every year in spring the Downtown Breakfast Club honor and recognize pivotal projects in Downtown Los Angeles with the Rose & Lemon Awards. When asked about this year's event, Citadel EHS's Loren Witkin said–
"It took a lot of blood and sweat to bring this year's RNL event to fruition after a two year lapse, but my Co-Chair Travis Cullen and committee rose to the challenge. The businesses, civil servants, volunteers, charities, and organizations that persevered during the pandemic are the true heroes here."
With adaptive reuse and redevelopment projects becoming the forefront of LA's growth strategy– environmental, health, and safety consulting firms are needed now more than ever. Citadel EHS is one of the top environmental firms called in anytime there is demolition or redevelopment. Citadel provides unique, integrative approaches to Environmental, Health, and Safety & Sustainability challenges for the entire life cycle of a project—from concept to completion, design to development. Our expert team is our biggest strength—we possess an integrative knowledge base of Architecture, Industrial Hygiene, Safety, Geology, Engineering, Environmental Compliance, Construction, Sustainability and more that together ensure comprehensive strategies and solutions. Citadel EHS consultants deliver expert Environmental, Health, Safety, and Sustainability advice and support on a wide range of EHS issues to a diverse and growing base of private and public clients, both large and small. Our staff of industrial hygienists, safety professionals, geologists, environmental scientists, construction services personnel, and support staff are capable of providing a multitude of services across various industries, including cost-effective solutions that safely manage any concerns. Citadel looks forward to supporting our clients on their future Rose-worthy projects!