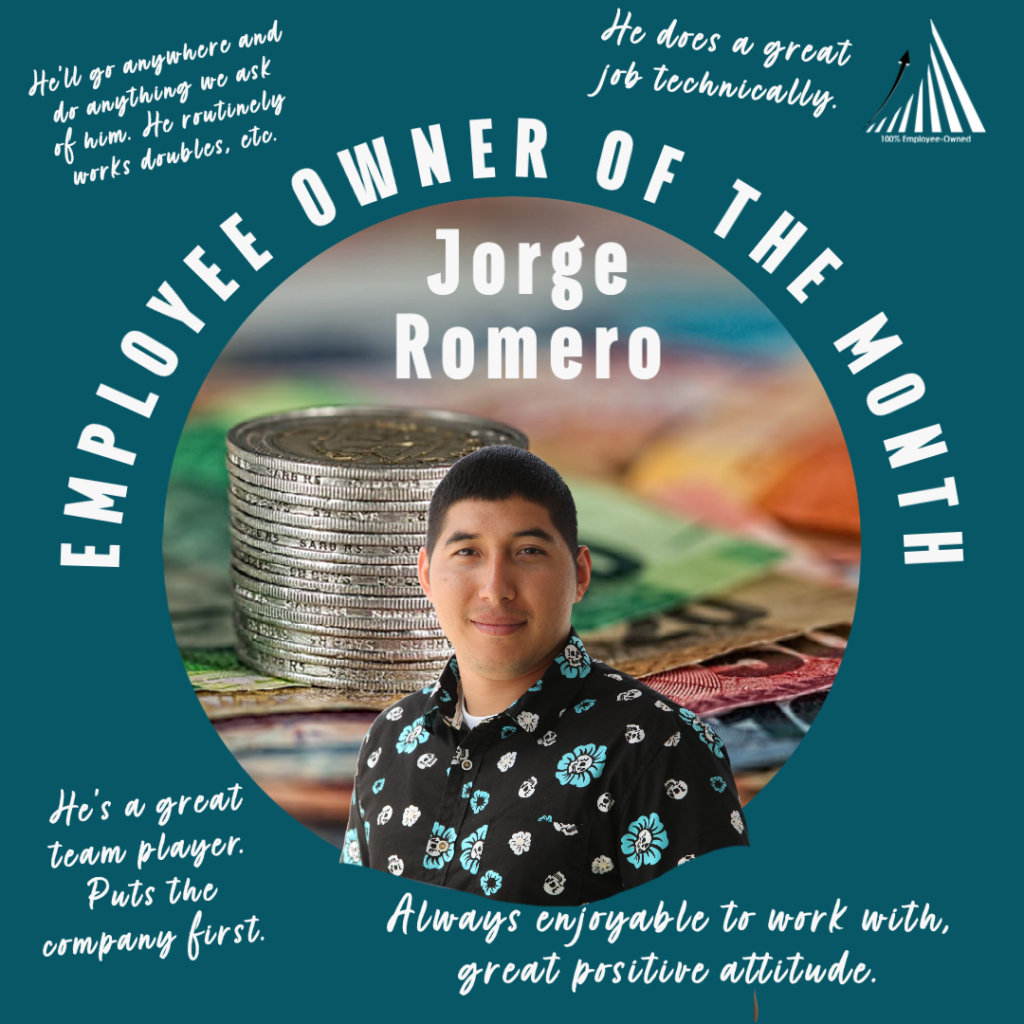 Citadel EHS is a company strongly guided by our values, one of which is the value of
Empowerment
. Our commitment to our employees goes beyond a paycheck. We care about their safety, wellbeing, and financial success. We nurture a culture that empowers our employees, because they are integral to our success. As an employee-owned company, our employees cultivate a culture of recognition to empower each other, we have a kudos post board on our Citadel Connect portal, where employees hand out recognition and gift cards to each other. In addition to that, we also have our employee owners nominate an individual who is a shining example of Citadel Values every month–known as our "Employee Owner of the Month".
We are happy to announce that for the month of October,
Jorge Romero
has earned the title of Employee Owner Of The Month.
Here is what some of his fellow teammates have to say about him:
 " He's a great team player. Puts the company first."

 "He'll go anywhere and do anything we ask of him. He routinely works doubles"

 "He does a great job technically"

 "Always enjoyable to work with, great positive attitude"
As a Field Representative for Citadel, Mr. Romero is working with our Senior Field Representatives and Project Management teams on Building Sciences projects. His daily responsibilities include: hazardous materials surveys; monitoring of asbestos and lead abatement projects; clearance sampling of abatement projects; and office duties including, cost tracking invoicing, generating SCAQMD Rule 1403 reports and preparing abatement closeout report documentation. His experience includes asbestos surveys, asbestos air monitoring, lead-based paint (LBP) surveys, air monitoring, and surveys and monitoring for other hazardous materials, He has successfully completed numerous environmentally regulated materials projects work for healthcare, commercial, residential and school clients. Jorge displays the values of Citadel as a company every day he is in the office and out in the field serving our clients.
Jorge, thank you for putting into practice Citadel's Values! You are shining as an employee owner and Citadel is grateful to have you on our team.