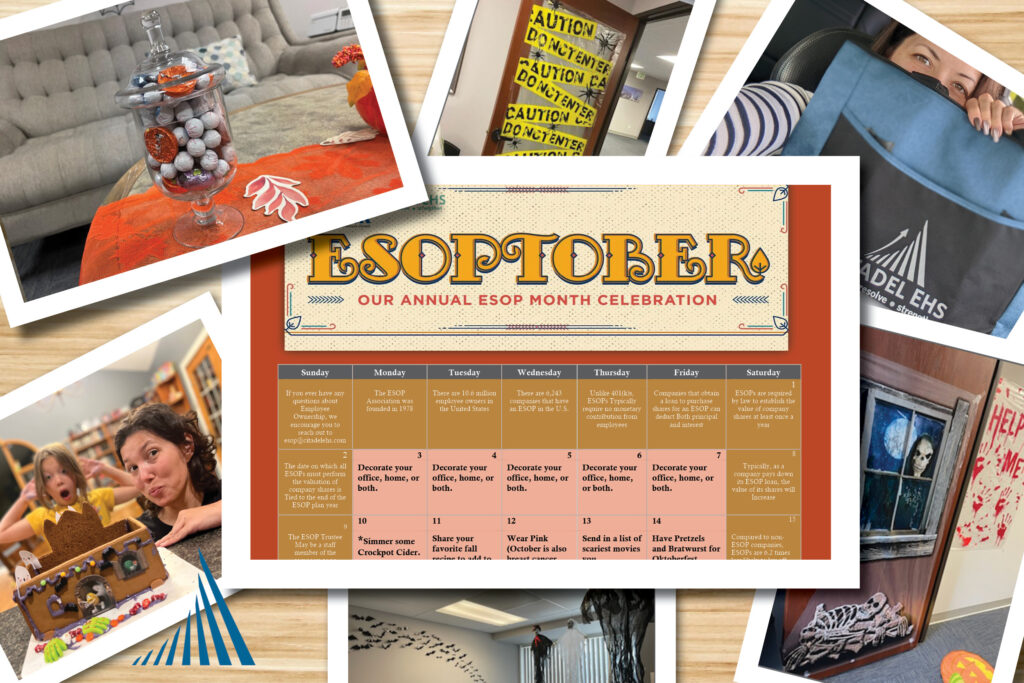 It is a spooktacular month— but Citadel EHS hasn't just been celebrating Halloween, Citadelians have had a month long celebration of ESOPtober! That is right, October is ESOP month, and as an employee-owned environmental health, safety, and sustainability firm– ESOPtober is a great time for us to reflect on what it means to be an ESOP company.
We started off the month with an ESOPtober calendar that gave over a dozen facts about ESOPs and had scheduled activities like decorating our offices or home offices, sharing our favorite fall recipes, sending in a list of scary movie recommendations, celebrating Oktoberfest, pumpkin carving, costume contests, and a guessing game! Citadel employee owners sent pictures of their participation by the dozens as they all joined in on the fun.
As we continue to grow and expand, it is important that we remain true to our values, and that comes with reflecting on them often as a company and creating a company culture that supports those values. When our founder and CEO, Loren Witkin, reflected on his vision for Citadel he saw a company that shared the wealth the company created with the individuals that made it. As part of his vision to bring all employees into ownership roles, Loren drove the formation of the firm's ESOP in 2003.
Citadel EHS prides itself in being an employee-owned and values-based business. At Citadel, we strive to have a positive social and environmental impact not only through the work we do for clients, but also in how we treat our employees and how we conduct our business. Our company values directly influence our decision to be an ESOP. Being an ESOP has allowed Citadel EHS to align more fully with our company values: Integrity, Trust, Excellence, Alignment, Empowerment, and Environmental Responsibility. By being 100% employee owned, our employees are 100% invested in the success of our clients, our stakeholders, our company, our communities, and our environment. Each employee owner takes ownership of their part in supporting each other towards the mutual benefit of all. Being an ESOP, Citadel EHS nurtures a culture that empowers our employees, because they are integral to our success.