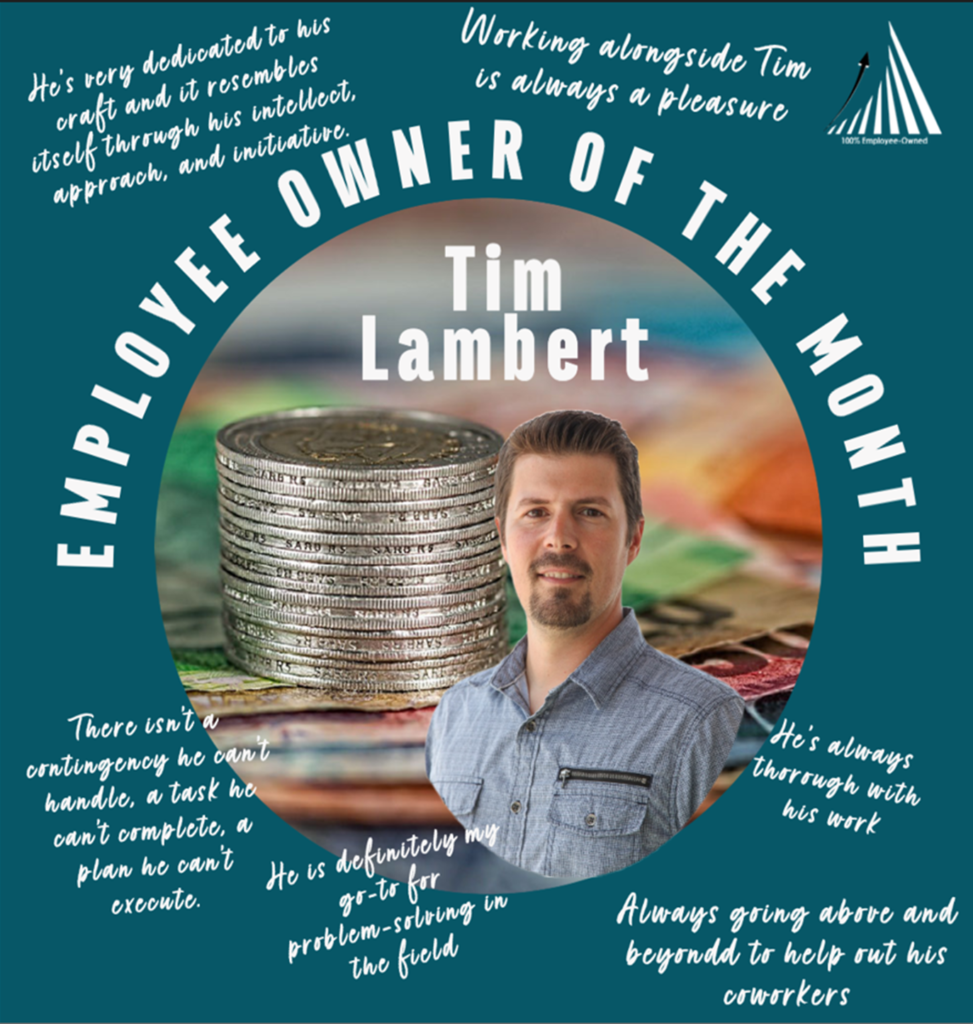 Citadel EHS is a company strongly guided by our
values
, one of which is the value of Empowerment. Our commitment to our employees goes beyond a paycheck. We care about their safety, wellbeing, and financial success. We nurture a culture that empowers our employees, because they are integral to our success. As an employee-owned company, our employees cultivate a culture of recognition to empower each other, we have a kudos post board on our Citadel Connect portal, where employees hand out recognition and gift cards to each other. In addition to that, we also have our employee owners nominate an individual who is a shining example of Citadel Values every month–known as our "Employee Owner of the Month".
Here is what some of his fellow teammates have to say about him:
"He's very dedicated to his craft and it resembles itself through his intellect, approach, and initiative."

 "Whenever working with Tim, he is incredibly responsive. He is always prepared to train others and share his knowledge. Tim is always thorough with his work. Working alongside Tim is always a pleasure."

"Tim's always going above and beyond to help out his coworkers. He's been a great mentor to our new hires and is always looking for innovative ways to improve the process. He is definitely my go-to for problem-solving in the field!"

"Tim gets it, and gets it done! There isn't a contingency he can't handle, a task he can't complete, a plan he can't execute."

"Tim is well prepared for each assignment and is able to react effectively to the inevitable off-script events that are encountered in the field."
As a Staff Environmental Specialist for Citadel, Mr. Lambert provides on-site organization, direction, and coordination necessary for the safe and successful completion of environmental geology and environmental compliance-related projects awarded to Citadel. His work includes performing Phase I and Phase II Environmental Site Assessments; soil monitoring; preparing site workplans; and providing oversight and instruction related to the excavation, removal, and disposal of hazardous materials. Mr. Lambert is proficient in preforming Phase II Subsurface Investigations; collecting soil, soil vapor, and groundwater samples and then evaluating the data to draw conclusions and make recommendations to clients. His extensive field experience allows him to deal with any situation that may arise on the job.
He is also responsible for conducting asbestos and lead surveys, providing oversight for asbestos and lead abatement, performing environmentally-regulated materials surveys, as well as, inspecting and monitoring various excavation and abatement activities. His responsibilities include a combination of field-based activities in a number of varying environments and office-based activities.
Tim, thank you for putting into practice Citadel's Values! You are shining as an employee owner and Citadel is grateful to have you on our team.
Everyone lets give a round of applause for Tim!