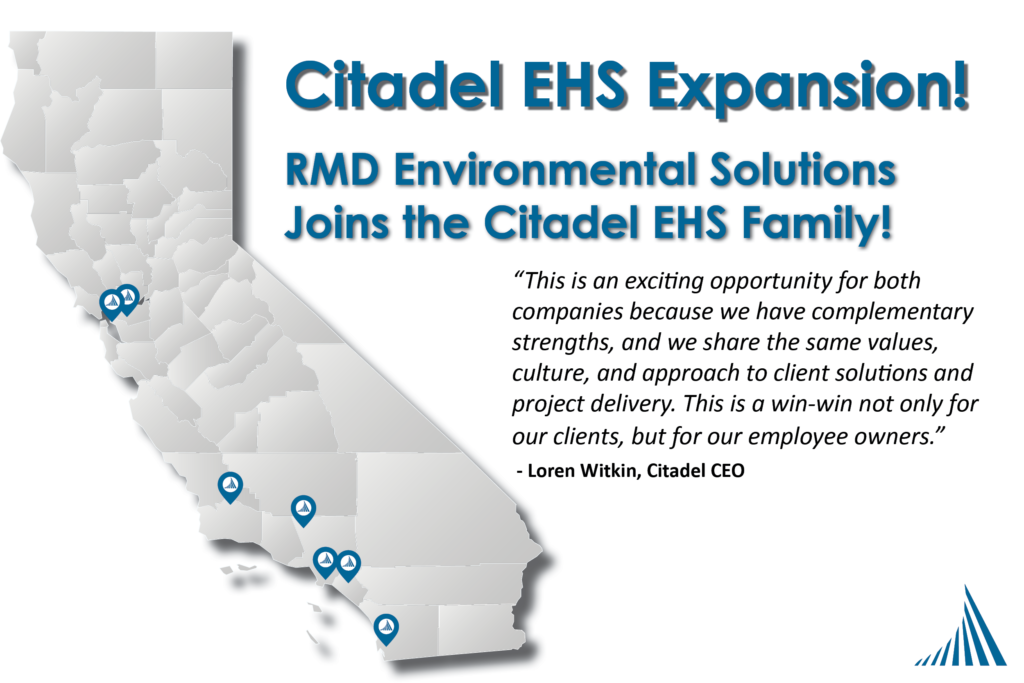 Citadel EHS announced that on December 30, 2022, it acquired RMD Environmental Solutions, Inc. (RMD), a Bay Area based, leading environmental consulting firm known for its expertise in the design and management of complex subsurface remediation projects. RMD's experienced leadership team, including co-founders, Khaled Rahman, Greg McIver, and Kirsten Duey, will join Citadel's Engineering and Environmental Sciences (E&ES) practice, which will be led jointly by Mark Drollinger and Greg McIver.
This is an exciting milestone for Citadel, and you can read about the details of the acquisition in the press release: click here.
Benefits for Citadel's clients: Enhanced site remediation, regulatory management and negotiation capabilities and expanded geography
Citadel's technical resources and experience working on complex, subsurface remediation projects have been greatly enhanced with the addition of RMD. The RMD team has a long and successful record of leading a variety of complex soil and groundwater clean-up projects, and they are particularly well known for their work on sites contaminated with chlorinated solvents. This success has earned them an exceptional reputation for quality work. Citadel clients that have projects impacted by subsurface problems are gaining technical expertise and resources as well as expanded geographic coverage as a result of Citadel's acquisition of RMD.
"For 30 years, our clients have counted on Citadel to help manage a wide range of environmental requirements, minimizing their risk in the most cost-effective manner. The addition of RMD further enhances how and where we can help our clients. With the expertise that RMD brings, very few projects, even the most complicated subsurface clean-up projects, are beyond the scope of Citadel's capabilities," stated

Loren Witkin

 Citadel's CEO.
We look forward to utilizing our enhanced capabilities to help our clients manage their most complex environmental, health, safety, sustainability and ESG challenges. To learn more about how we can support you, please contact Bruce Thrupp at (818) 246-2707, or click here to have someone from our staff contact you.