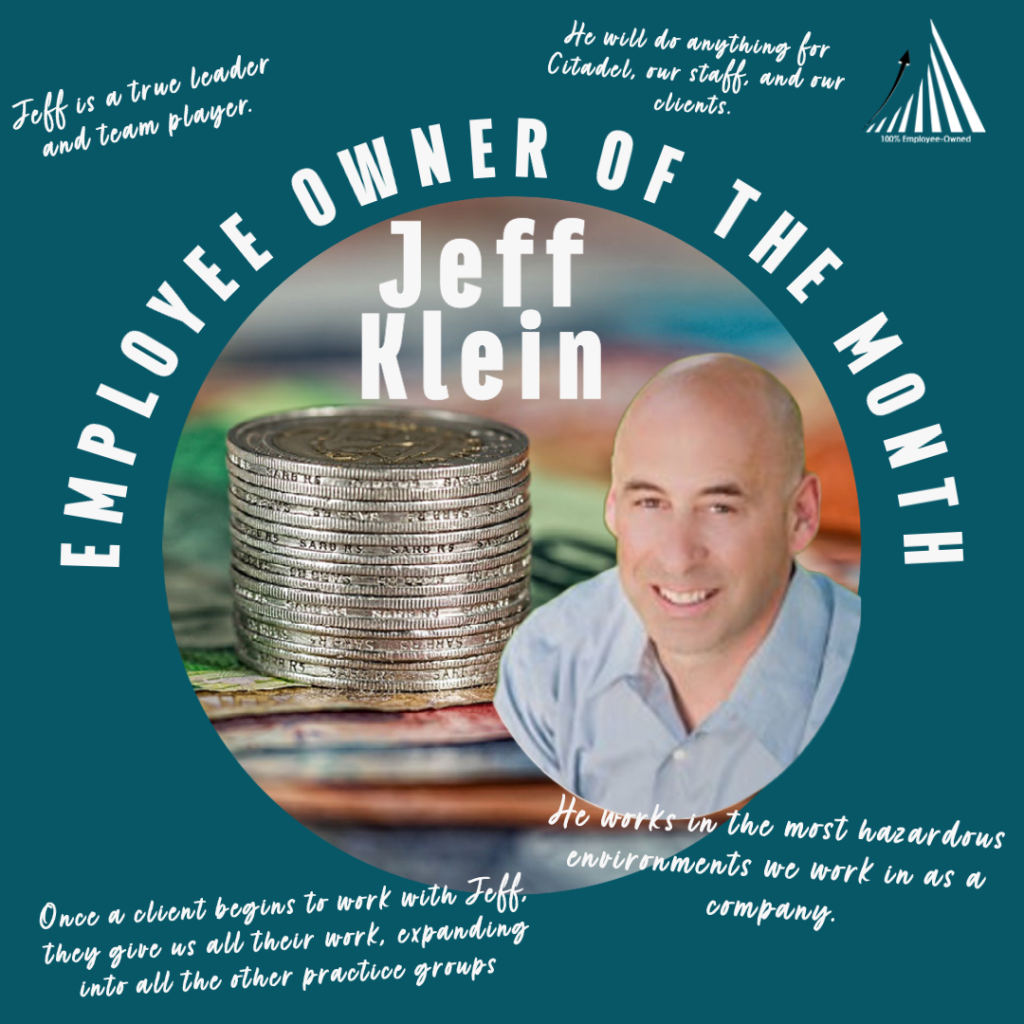 Citadel EHS is a company strongly guided by our values, one of which is the value of
Empowerment
. Our commitment to our employees goes beyond a paycheck. We care about their safety, wellbeing, and financial success. We nurture a culture that empowers our employees, because they are integral to our success. As an employee-owned company, our employees cultivate a culture of recognition to empower each other, we have a kudos post board on our Citadel Connect portal, where employees hand out recognition and gift cards to each other. In addition to that, we also have our employee owners nominate an individual who is a shining example of Citadel Values every month–known as our "Employee Owner of the Month".
We are happy to announce that
Jeff Klein
has earned the title of Employee Owner Of The Month.
Here are some of the reasons he was nominated:
Jeff is a true leader and team player. He will do anything for Citadel, our staff, and our clients.
He works in the most hazardous environments we work in as a company.
When there is a disaster at a client site, he works pretty much non-stop, 15-20+ hours a day, until it's resolved which is usually several months.
His working utilization was 105% for 2022, which is the norm for him.
Once a client begins to work with Jeff, they give us all their work, expanding into all the other practice groups, I think because they recognize that he will literally work non-stop to help them.
Upon hearing of his win Jeff has this to say:
"Thank you for all the kind words. I'm humbled and grateful to earn this award wrapping up FY2022.

Now that Citadel has sailed into uncharted waters with the acquisition of RMD, let's steer the Citadel ship with a tight grip with two hands on the reigns, eye on the prize, enjoy the journey into the horizon, and the next chapter of Citadel.

Last but not least…..ROCK ON!! "
Jeff, We know your dream has come true today! Thank you for all the hours you put in, we know it's hard when you have a family and we appreciate you.
Everyone lets give a round of applause for our super star Jeff Klein!