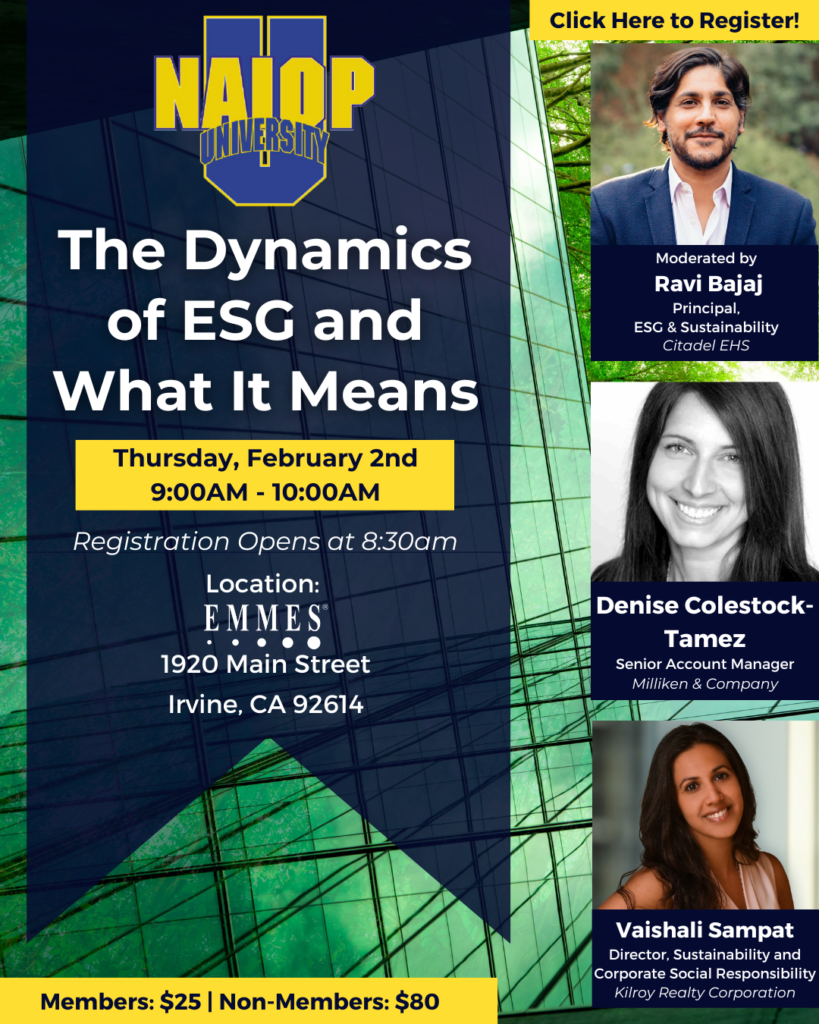 Citadel understands the current buzz surrounding ESG, it's evolving topics and formality. Because ESG is still relatively new and experiencing growing pains, a huge part of our job is educating our clients and the community on what exactly ESG is, specifically ESG for the built environment.
This week, our principal of ESG & Sustainability, Ravi Bajaj is moderating a conversation at NAIOP University on "The Dynamics of ESG and What It Means" . In his presentation, Ravi will be answering the important questions like "what is ESG?", "Why is it important?", "How do we define it for the built environment?", and "How does it affect the real estate industry?".
Panelists for this event include Denise Colestock-Tamez of Milliken & Company, as well as Vaishali Sampat of Kilroy Realty Corporation. This speaking event will be taking place on February 2nd, from 9:00 am to 10:00 am at 1920 Main Street, Irvine, CA 92614. Registration opens at 8:30 am. If you would like to register to attend this event, feel free to follow the link below:
NAIOP is a leading commercial real estate industry provider of unparalleled networking opportunities, educational programs, research on trends and innovations and strong legislative representation. NAIOP's sister organization, the NAIOP Research Foundation, is one of the industry's leading think tanks dedicated to conducting research assessing the trends, economic viability and needs of the built environment. NAIOP University is also known as the Commercial Real Estate Development Association, whose mission is to provide advocacy, education and business opportunities by connecting members in a powerful North American network in the commercial real estate development and investment industry. Allowing individuals to create commercial real estate solutions meet the changing demands for how people work, live, shop and play.
They are the leading organization for developers, owners and investors of office, industrial, retail and mixed-use real estate. NAIOP comprises 20,000+ members and provides strong advocacy, education and business opportunities through a powerful North American network.
Citadel's ESG&S team supports building owners, managers, and investment teams with actionable and objective ESG advisory services to help set, track, and meet ESG and sustainability goals. Both Kilroy and Milliken showcase successful organizations at the leading edge of incorporating sustainability, ethics, and ESG programming. Join us for an exciting conversation with industry leaders!