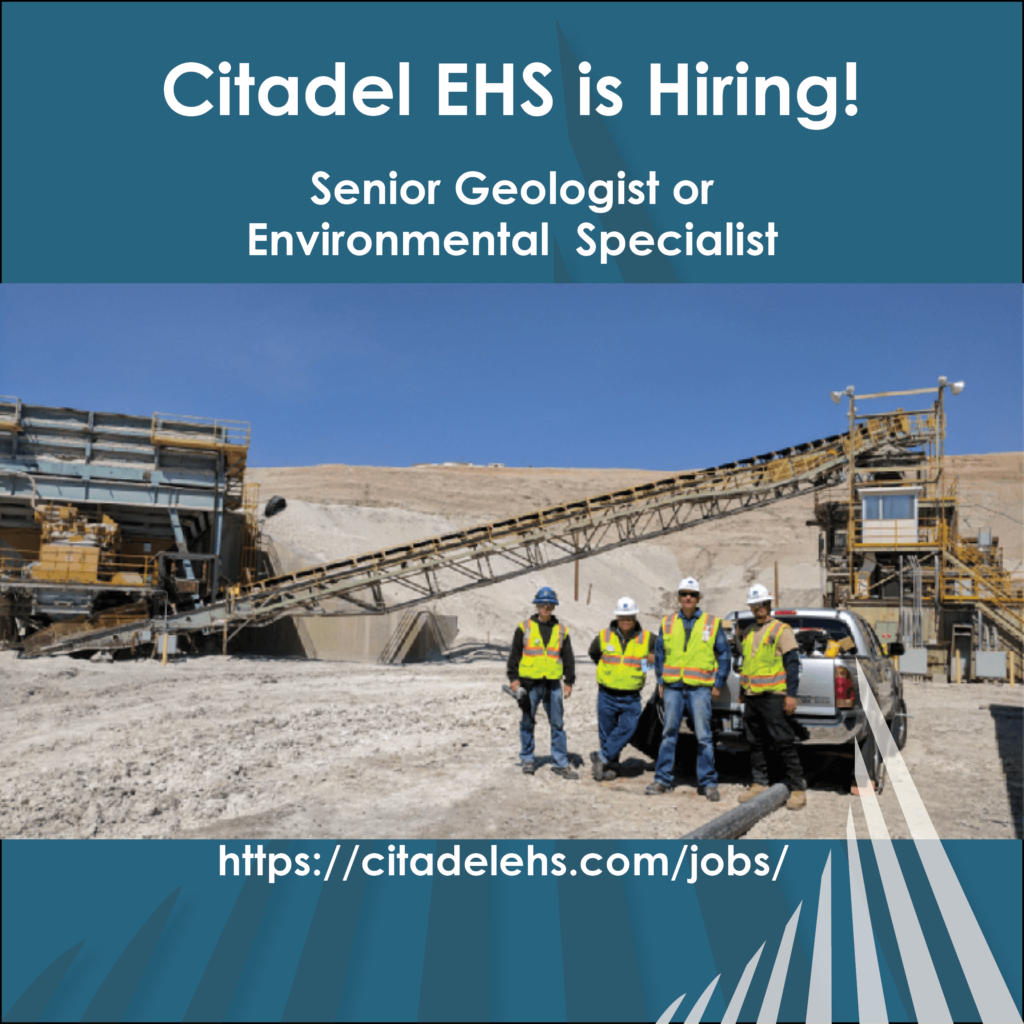 Job Description
Citadel EHS is hiring a Senior-level professional engineer, geologist, or specialist to manage Bay Area environmental characterization and remediation projects. Limited travel throughout California is anticipate. The Candidate should possess significant field experience with assessing and remediating hazardous waste sites; site auditing; mentoring junior staff; client management; and direct interaction with local, state and federal regulatory agencies. We have a diverse portfolio of projects and are looking for experienced candidates to step into project management roles. The EES Group, led by Greg McIver and Mark Drollinger, is poised for significant growth and needs to fill certain roles to keep up with this demand.
The successful candidate will assist the Director with managing projects, serving as the primary client and regulatory contact, and directing staff. The candidate should have well-developed computer skills, as well as written and interpersonal communication skills. Requirements of this position include: strong organizational abilities and strict attention to detail; a willingness to travel, work nights and weekends as projects require; good physical health and ability to wear required Personal Protective Equipment; and valid driver's license and reliable transportation. Ideal candidate will possess 12+ years of progressive experience including managing projects and staff.
Job Title: Project Manager/Senior-Level Engineer, Geologist or Specialist
Degree/Certificates: BS in Geology, Engineering, Environmental Studies; Master's degree in similar fields is preferable. PE, PG, or Similar California License Required.
Department/Group: Engineering and Environmental Science
Job Code/ Req#: N/A
Location: Walnut Creek preferred, however will consider other California locations for ideal candidate
Travel Required: Yes
Level/Salary Range: $100,000 – $150,000 plus bonuses
Position Type: Full-Time
Applications Accepted By: [email protected]
About Citadel EHS
Citadel EHS is an employee-owned, Environmental Health, Safety, and Sustainable consulting firm, with offices throughout Southern California. We have recently acquired RMD Environmental Solutions, a Bay-Area Based Environmental Consulting Firm, which has further expanded our geographic and technical capabilities and our client portfolio. We offer a wide range of services including environmental geology, industrial hygiene services, asbestos and lead surveys and monitoring, safety/training, IR thermography, environmental compliance, air emissions, sustainable practices, and litigation support. We provide services to large institutional clients including the largest companies in the world.
Skills/Qualifications:
Knowledge of MS Office, Word, and Excel and excellent written and verbal communication skills are absolutely required.
BS in Geology, Engineering, Environmental Studies or related and relevant experience; Master's degree in similar fields is preferable
Minimum 12 years of related experience
40-Hour HAZWOPER Certification
California registration as a Professional Engineer or Geologist required.
Significant experience with assessing and managing remediation of hazardous waste sites preparing and managing Site Characterization Work Plans and Reports, Feasibility Studies, Remedial Action Plans, etc.
Experience with DTSC, RWQCB, and local Bay Area regulatory oversight programs.
Provide strategies for regulatory negotiations.
Citadel EHS is an equal opportunity employer in business since 1993. Citadel has been recognized by the Los Angeles Business Journal as one of the Best Businesses to work for in Southern California. We offer an excellent salary and benefit package with long-term growth potential. Citadel EHs is hiring for a number of positions at https://citadelehs.com/jobs/