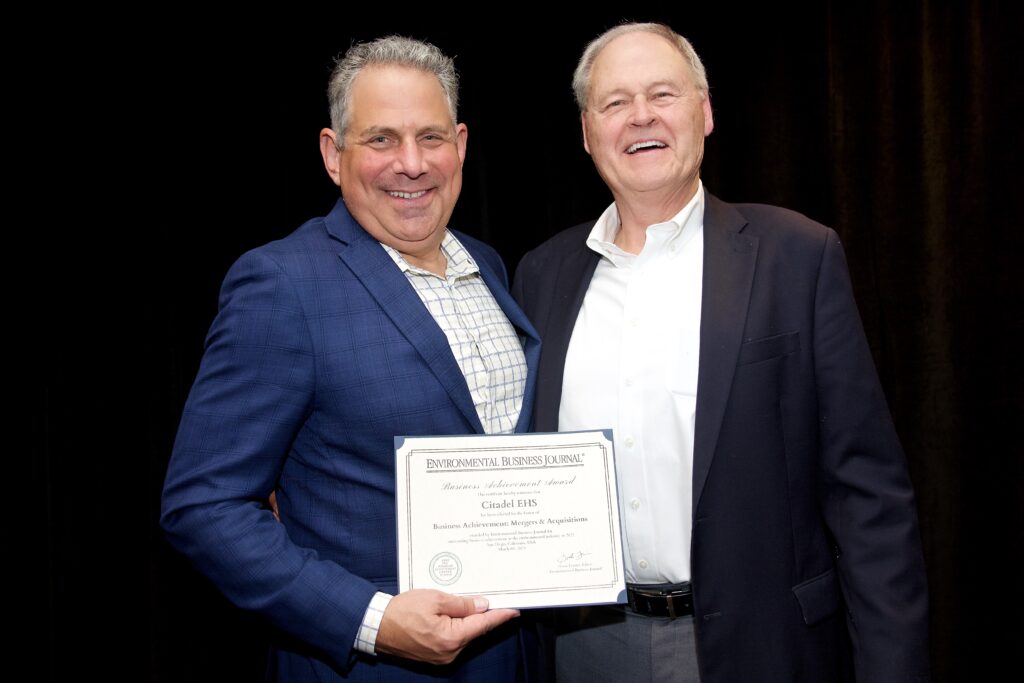 It's no secret that Citadel EHS constantly strives to be the best at everything we do. After all, excellence is one of our company values. It is in the spirit of excellence that on March 22nd, Citadel EHS was honored to receive the Business Achievement Award from the Environmental Business Journal in the category of Mergers and Acquisitions. Citadel CEO,
Loren Witkin
,  accepted this award on behalf of Citadel, and spoke on a panel about mergers and acquisitions. Citadel received this award due to their recent acquisition of
RMD Environmental Solutions
–a match that allowed Citadel to better serve our northern California clients with additional high qualified technical staff in the region. RMD is best known as an environmental consulting firm known for the design and management of complex subsurface remediation projects. The EBJ award, presented by
Grant Ferrier
, was a wonderful recognition of what a delicate undertaking acquisitions and mergers are for small business enterprises like Citadel EHS.
The Environmental Business Journal® (EBJ) is the premier subscription publication of Environmental Business International. EBJ is a powerhouse of business market intelligence produced from careful industry research and direct interviews with leading environmental industry executives, analysts, and insiders. Each year EBI, Inc. and its award selection committee present Business Achievement Awards in a number of categories to worthy recipients in the environmental and climate change industries. Winners are announced by email, on their website, and in press releases. This year's Business Achievement Awards Ceremony was be held at San Diego National Conference Environmental Industry Summit XXI, March 22-24, 2023 and had an attendance of over 130 executives. EBI has two business achievement award programs: one for Environmental Business Journal (EBJ) and one for Climate Change Business Journal (CCBJ). Each is administered by separate publications. Citadel thanks the Environmental Business Journal for their recognition, and would like to congratulate all the winners at this year's awards ceremony.
To view other awards won by Citadel EHS for our many accomplishments, visit our
website.