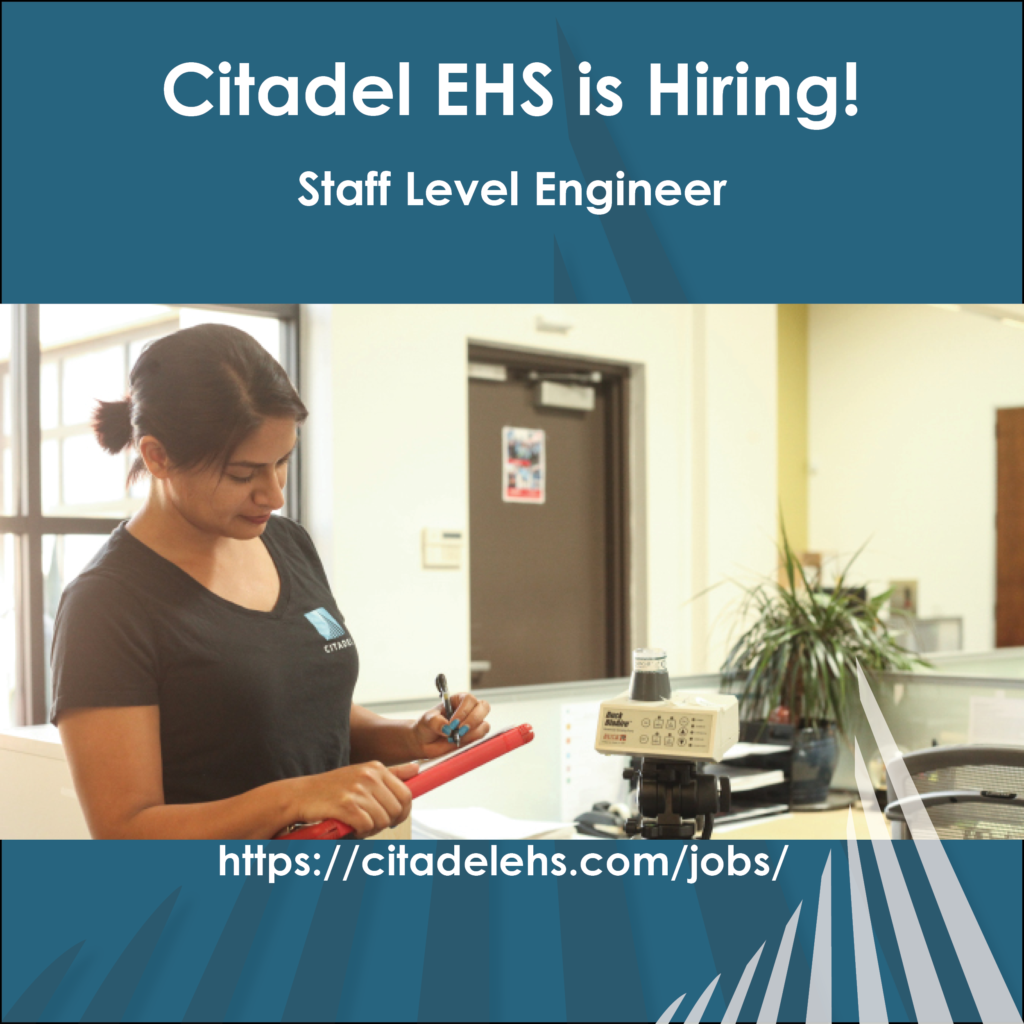 Citadel EHS is hiring for a staff-level environmental engineer, geologist, or specialist to assist with a diverse set of projects from a growing client base in our Engineering and Environmental Sciences practice, led by principals Mark Drollinger and Greg McIver. The successful candidate is expected to work in Citadel's headquarters in Glendale, but we may consider a position in our Irvine, San Diego, Long Beach, or Valencia offices. Limited travel throughout California is anticipated. The Candidate should possess experience conducting and writing Phase I Environmental Site Assessments and Phase II Environmental Investigations reports, performing tasks related to collection of soil and groundwater samples, operating and maintaining soil and groundwater sampling and monitoring equipment, supporting the project manager with preparing and managing a variety of work reports and plans including Work Plans, Soil Management Plans, Health and Safety Plans, Risk-Based Assessments, Conceptual Site Models and other similar documents.
The Candidate should have well-developed computer skills, as well as written and interpersonal communication skills, and a willingness to travel, work nights and weekends as projects require; climb ladders, carry equipment, manage and oversee construction sites the ability to wear required Personal Protective Equipment, including respirators.
Skills and Qualifications:
BS in Geology, Engineering, Environmental Studies or related disciplines and/or relevant experience;
Minimum two years of related experience;
Direct experience performing Phase I ESA Site Walks and writing Phase I reports (required);
40-Hour HAZWOPER Certification desired;
Current holder of an EiT or GiT certificate, or ability to obtain within one year of employment desired;
On track for licensure as a Professional Engineer, Geologist, Hazardous Materials Manager or other relevant professional certification;
Meets the definition of "Environmental Professional" under AAI;
Self-starter and responsiveness is a must;
Working knowledge of construction management, reading and working from blue prints (desired); MS Office, Word, and Excel and excellent written and verbal communication skills are required;
Should possess good organizational skills and time management practices;
Limited travel including overnight stays may be required.
Citadel Environmental Services, Inc. (dba as Citadel EHS) is an employee-owned, Environmental Health, Safety, and Sustainability consulting firm, with offices throughout Southern California. We offer a wide range of services including engineering and environmental surveys, environmental compliance, air emissions, sustainable practices, industrial hygiene services, asbestos and lead surveys and monitoring, safety/training, ESG services, staff outsourcing, and litigation support.
If you are interested in this job posting, or any job posting you see on our website's career postings , please send your resume to: Shannon Mateik at [email protected]