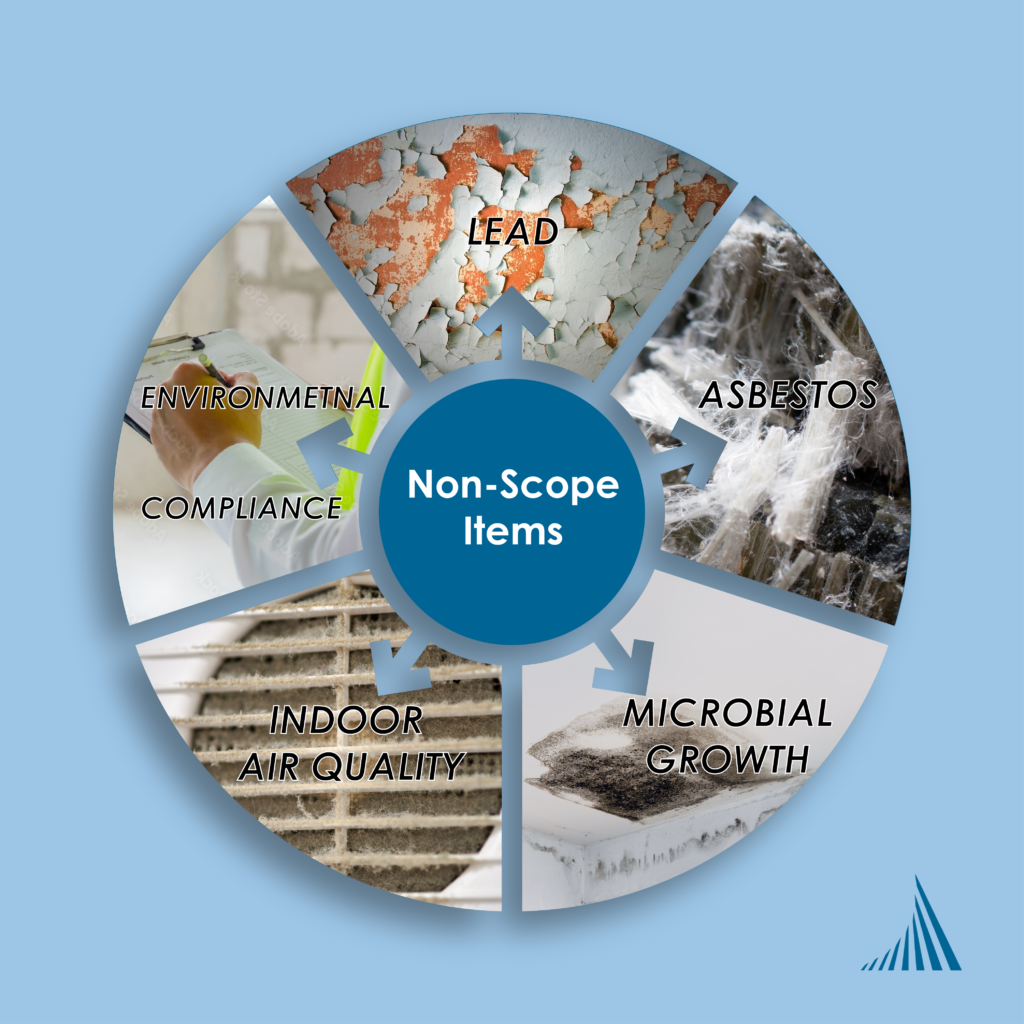 Phase I Environmental Site Assessments (Phase I ESAs) have been considered the gold standard for environmental due diligence during commercial real estate transactions since 1993. But what about Yet, there are many limitations to the Phase I ESA scope and Non-Scope environmental risks that can impact your projects.
The goal of the Phase I ESA is to identify the confirmed presence, likely presence, or a material threat of the presence of hazardous substances or petroleum products at a real property, also known as a Recognized Environmental Condition (REC). By this definition, a Phase I ESA is limited to Comprehensive Environmental Response, Compensation, and Liability Act (CERCLA)-defined contaminants and petroleum products. Yet these items are far from being the only environmental risks associated with the purchase of commercial real estate.
Phase I Non-Scope Items
In fact, Section 13 of the American Society for Testing and Materials (ASTM) standard for Phase I ESAs (ASTM E1527-21) lists a variety of "Non-Scope Considerations" which are not included in a standard assessment. Some significant ones to mention when it comes to environmental risk include asbestos-containing building materials, biological agents, cultural and historical resources, ecological resources, endangered species, health and safety, indoor air quality (unrelated to hazardous substances or petroleum products, which would be part of the standard Phase I assessment), industrial hygiene, lead-based paint, lead in drinking water, microbial growth, PCBs, radon, regulatory compliance, and wetlands.
Importance of Awareness of Phase I Non-Scope Items
To prevent unforeseen expenses, delayed project timelines, and in some cases even the loss of usable land associated with the property, parties involved with commercial property transactions should be aware of these limitations in the Phase I ESA process and understand the impact these non-scope items on the use and redevelopment of their investments.
For example, asbestos, lead-based paint, and indoor air quality issues within a building can all cause additional requirements during renovation, demolition, and/or occupancy of structures on a property. Abatement of these materials during renovation or demolition can significantly add to the cost of the project, and it's important to understand that cost prior to purchase, if renovation or demolition is planned for the property. Microbial growth and water intrusion issues within a structure may lead to extensive remediation and redesign on what could otherwise appear to be a move-in ready building. Regulatory compliance issues, like improper stormwater management design/permit compliance, non-compliant air emissions, process and/or equipment permit transfers, and Resource Conservation and Recovery Act (RCRA) violations that are inherited during property transactions also can produce unforeseen costs, delayed project timelines, and paperwork.
Citadel EHS teams can assist with minimizing impacts to time and budget while ensuring any relevant obligations are managed responsibly. Our staff consists of certified industrial hygienists, professional engineers, asbestos and lead certified professionals, scientists, and regulatory experts who can help minimize risk, and keep your business and its employees safe and compliant.
About Citadel EHS
Citadel's principal lines of business include consulting services in the fields of environmental engineering and geology, building sciences (asbestos, lead, PCBs, etc.), industrial hygiene & safety, environmental compliance, and ESG/sustainability. Citadel's environmental expertise is unique in that it is based on our experience and understanding that managing EHS&S concerns often crosses over multiple disciplines. Citadel has the proven capabilities to take a multi-disciplinary and integrated approach to provide EHS&S services for the entire life cycle of a complex real estate engagement. Citadel's clientele includes an extensive list of Fortune 500 firms, with high profile construction, development and environmental assessment and remediation projects.
Citadel is among few Southern California based, certified local small businesses (LSBE) that are fully integrated and capable of managing all the environmental elements of a large, complex project through its entire lifecycle.
Glendale | Irvine | Valencia | Long Beach | San Diego | Oakland | Walnut Creek | Grass Valley