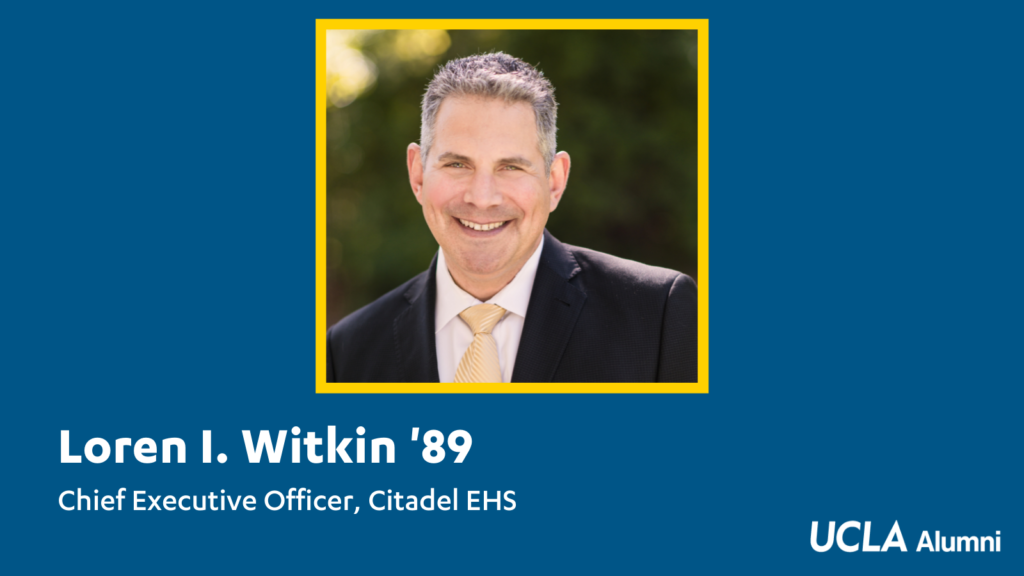 The UCLA
Alumni Association
recently featured our very own CEO
Loren Witkin
for their Earth Month campaign and selected Citadel EHS as one of the UCLA Bruin Business 100. UCLA has been foundational to Loren Witkin's '89 personal success and that of the firm he founded nearly 30 years ago. He began working at the UCLA Office of Environment, Health & Safety (EH&S) as a student in 1987. Upon graduating, he was offered a full-time position and entrusted to create the Asbestos and Lead Management Program – which is still in existence today. Running the multi-million-dollar remediation program opened up the world of EH&S for Witkin, who then decided to leave a future career in law to work in environmental health and safety. In 1993, he started his own firm and UCLA was their third client. Citadel has continued to support UCLA to this day. In 2015, Witkin transitioned Citadel to become 100% employee-owned and it has since been recognized by Cal EPA with a Climate Leader Award. Last month, the Environmental Business Journal presented Citadel with an achievement award for its new environmental, social and governance practice area.
Mr. Witkin isn't the only UCLA Alumni at Citadel– Scott Brehmer, our Principal for Industrial Hygiene and Safety, is a Bruin. Michael K. Roy is also a UCLA graduate and performs Citadel's Environment, Health & Safety Risk Management. Carla Adolphus is also a proud Bruin, and performs works closely with our Industrial Hygiene and Safety practice as a project assistant for Citadel EHS.
In addition to being chalk full of Alumni from UCLA, Citadel EHS has a long standing working relationship with this prestigious university. Citadel has proudly worked with UCLA on a number of environmental consulting projects , most notably our Building Sciences practice line performed environmental services for
UCLA's demolition, renovation, and environmental compliance projects
. Since 1999, our team of Environmental, Health and Safety experts have been UCLA's trusted partners for hazardous materials management services on 200+ projects, including several multi-million dollar seismic/safety upgrades throughout the campus. Our work has been performed on Kerckhoff Hall, the historic Powell Library, the Young Hall Chemistry wings, and the Broad Art Center. Citadel is proud to support one of the most prestigious universities in California and looks forward to continue supporting them in their goals.