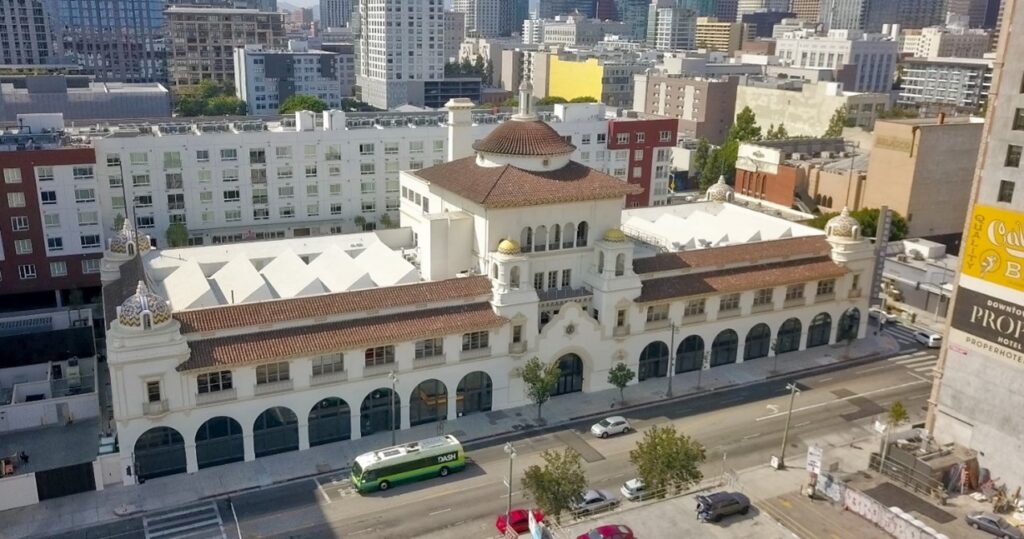 Adaptive Reuse Project of the Herald Examiner Building
Building Sciences: BSci Practice Leader, Kier DeLeo, CHMM, CAC, offers recommendations based on decades of experience supporting clients who manage wide ranging commercial construction projects, public and private sector. Above is an Elevated view of the Los Angeles Herald Examiner building which underwent adaptive reuse development in 2021.
Adaptive Reuse Development
It is a term that refers to the process of taking an existing structure and updating or adapting it for a new use or purpose. As progress marches onward and cities find themselves needing to grow and adapt, communities are spending more time and money repurposing existing buildings to serve them in new ways. Not only does this allow historic or culturally significant sites to be preserved instead of being demolished or left to become dilapidated versions of their former selves—but it is also a way for communities to be more environmentally sustainable. Adaptive reuse allows for a reduction in building materials needed to transform a space to meet the community's needs, as well as a reduction in greenhouse gasses and physical debris emitted during a full demolition.
Adaptive Reuse Hazards
But every solution has its drawbacks. Existing buildings tend to be older and frequently were constructed during the time that hazardous or environmentally regulated materials, such as lead, asbestos, etc. were in common construction use. Due to environmental regulations, all buildings require some degree of hazardous materials survey prior to renovation or demolition, but in adaptive reuse situations, these surveys are more likely to identify regulated materials, and a greater number and breadth of type of materials, than in newer buildings. These materials need to be removed correctly, by the right type of contractor, to protect the health of the construction workers, the public, and future building occupants. Correctly addressing the regulated materials also protects the building owner and construction team from significant liability, including regulatory, litigation, and reputational risks.
The hazardous materials surveys are particularly tricky when working with historic buildings, where extra care must be paid to make sure those carrying out the survey are not damaging the historic fabric of the building when testing for hazards.
Citadel Experience
Citadel's company headquarters is located near the heart of Los Angeles, in a city that has expanded so much that the surrounding area has become one major metropolis. Los Angeles has reached a point where it has no choice but to become highly creative in how it expands but is also old enough to be loaded with historic and culturally significant buildings. In comes adaptive reuse development, where existing LA architectural monuments like the Herald Examiner building can be carefully and strategically repurposed to meet current community needs. In this instance, the original Herald Examiner Building—designed by Julia Morgan, famous for her design of Hearst Castle, was built in 1914 to house the newspaper company The Los Angeles Examiner. In 2021 the $80 million rehabilitation project adapted the building to become mixed-use offices, restaurants, retail, and a satellite campus of Arizona State University's School of Journalism.
Where does Citadel EHS fit into all of this? Citadel EHS has a key supporting role for real estate companies, investors, and contractors in many adaptive reuse projects throughout California—including the Herald Examiner building, where Citadel supported The Georgetown Company by conducting a wide range of key environmental tasks. Citadel's work included Environmentally Regulated Materials (ERM) Surveys, Hazardous Materials Removal Oversight, Indoor Air Sampling Surveys, a Geophysical Survey, Underground Storage Tanks (UST) Closure-in-Place, Sub Slab Vapor Sampling and Depressurization System, and Phase I & Phase II Environmental Site Assessments. All this was completed while also taking precautions to respect as much of the historical integrity of the building as possible. This adaptive reuse project went on to win awards from the Southern California Institute of Architecture (SCIARC), the L.A. Conservancy, and The American Institute of Architects Los Angeles (AIA|LA).